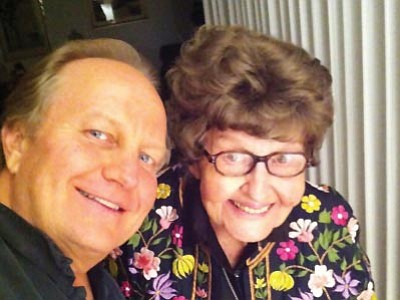 Originally Published: December 30, 2012 6 a.m.
Kingman native Virginia Black Doyle celebrated her 95th birthday on Nov. 16 at her home in Makaha, Hawaii. Son David Doyle of Alameda, Calif., and many longtime friends and neighbors celebrated the day with Virginia, which was topped off by a dinner at her favorite Mexican restaurant.
"It was the nicest birthday party I've ever had and the cake was absolutely gorgeous," she said.
The daughter of Mr. Arthur Black and Mrs. Mabel Van Marter Black, Virginia is the eldest of 10 children raised in Kingman. Her surviving siblings include Don Black of Phoenix, Fran Madole of Kingman, Mai Grey of Tucson, Helen Tapp of Phoenix and Sister Madonna Marie Black, who resides at the family home in Kingman. Virginia's other son, Chris Doyle, resides with his family in Minnesota. She has three grandchildren and three great-grandchildren.
Virginia spent much of the day visiting with her extended family via Skype. "I'm not too excited about many things in the modern world, but Skype is amazing," she said.
In 2003 Virginia published a book titled, "Has Been," that chronicles her life in pictures and news clippings from the early years in Kingman through World War II, onto the stage as a model, dancer and opera singer, and then into family life. Highlights include dating Buster Keaton, who she met in 1925 while he was in Kingman to visit family friends, Mr. and Mrs. Ed Laferriere. In 1940, she was crowned Orange Show Queen of California (as reported by the Mohave County Miner). From California she moved to New York, where she modeled for the Powers Modeling Agency, was featured in several U.S. war bond posters and sang and danced with the Xavier Cugat Orchestra.
Virginia moved to Hawaii in 1976 after a golfing trip had left her enchanted with the beauty of the Waiaine mountains. Active in many civic causes over the years, she is the treasurer of We, the Women of Hawaii, a philanthropic organization, and a member of the Hawaiian Railway Society. For much of her life in Hawaii, Virginia was an avid golfer and renowned walker. For her, a 20-mile walk was considered just a warm-up and a stroll down to the beach was a daily affair.
Today Virginia is perhaps most well-known for how much she reads. She lives on her own, takes no medication and entertains friends regularly.
The secret to her longevity? "I avoid doctors and have been a vegetarian for many years."