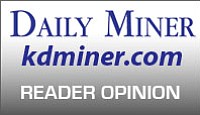 Originally Published: December 31, 2012 6:01 a.m.
Hualapai Mountain Park would like to thank the families of Mohave County for showing their support for the Park's Fifth Annual Santa's Hualapai Wonderland held on Dec. 1, 2, 8 and 9. What a success!
We would like to extend a heartfelt thank you to those businesses that donated goods, in-kind services and/or made a cash donation listed here: Mohave State Bank, KRMC, Walmart, Home Depot, Sam's Club, Donut Depot and Deli, Starbucks, Kingman Postal Service, DamBar Steak House, Arizona Sign Company, Cameron Broadcasting, Hollingsworth-Properties, ServPro, A3 1880s Variety Show, Whistle Stop Museum RR, Stockton Hill Feed and Mother Road Harley-Davidson.
We would also like to thank the local businesses that decorated: Party Perfect, Pitzer's 1 Hour Air/Ben Franklin Plumbing, KRMC, Vietnam Veterans of America Chapter C-975, Historic Route 66 Association, Kingman Post Office, Lombardo's Sicilian Grille, New Hope Hospice, U.S. Southwest Sales/Marketing, Amazing Grace Church, Cellar Door, Boot Barn, Siren's Café, Mohave Environmental Labs, Findlay-Nolte Auto Center, Desert Diamond Distillery, Bullets and Bustles Reenactments, Cascades Tissue Group, Walmart, Calvin Septic Services, Stephen Drake RPLS, Suddenlink, True Value Distribution Center, Stockton Hill Feed, Kingman Visitor Center, Mohave Community College, Hot Rod Café, JMJ Electric, Cameron Broadcasting, Napa Auto Parts, Spinsters and Angel Manor, Inc.
We appreciate the vendors who displayed their holiday items or painted a candy cane on children's faces: Creative Dreams Photography, Sew Crafty, Knick-n-Knacks, Hualapai Mountain Quilting, Mystik Peaces, Partylite, Cool Gurl Face Painting, Marja McGraw-Mystery Writer, Heart-to-Heart Creations, Handmade Yarn Creations by Mary Anne, Arizona Soap Company, AJ's Goods, Olan Mills Portrait Studios, Margi Brecker's Jewelry, Scentsy, Color-Me Artistic Face Painting, M and N Jewelry, AJ's Ping Pong Game for Kids and Porky's Barbecue.
To the 45 volunteers whose tireless help and commitment to contributing too many services to mention, we want to thank you!
Joe, Mary, Christine
Kingman