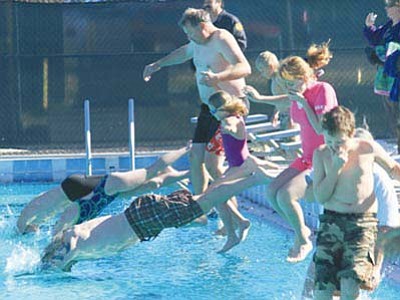 Originally Published: December 31, 2012 6:01 a.m.
It's an event that tends to draw more spectators than participants, but those wanting to kick off the New Year with a thrilling chilling will have their chance during the 12th Annual Polar Bear Plunge Tuesday.
Think of it as a chance for a Happy Pneu(monia) Year!
The plunge takes place on New Year's Day and will commence at exactly noon at Centennial Pool, 3333 Harrison Street.
Last year's plunge attracted around 100 spectators who goaded on the 50 plungers.
"Usually if someone jumps, they bring someone else to watch," said Parks and Recreation administrative assistant Karen Fogg, who's attended all but one of the plunges. Fogg said she herself has never participated, but her son has.
"It's a pretty joyful mood," she said. "There's a lot of friendly competition, like 'I'm going to stay in longer than you.'"
Those who brave the cold waters will have a chance to take home several prizes placed at the bottom of the pool. Fogg said the pool would be around 40 degrees. Noontime temperatures should be about the same. Hot showers will be available following the plunge.
Advance registration is not required.