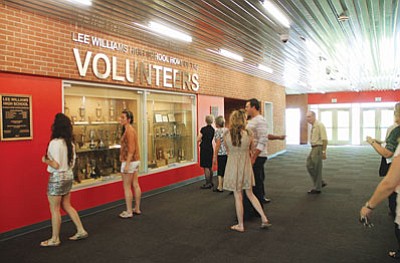 Originally Published: February 2, 2012 6:01 a.m.
The feasibility of opening the vacant Lee Williams High should dominate discussions when the Kingman Unified School District governing board starts its fiscal year 2013 budget process today.
Though all aspects of the budget - including teacher salaries, lane changes and classifications - will be looked at, Lee Williams High is what a large portion of the community is interested in.
The district completed the school's $25 million facelift - paid for out of the $79.9 million bond approved by voters in 2006 - in October. Though organizations such as Western Arizona Vocational Education have used it sporadically to host meetings, for instance, the school has largely sat empty since its completion.
The bond also paid for the new White Cliffs Middle School and the Desert Willow Elementary - currently a preschool.
One of the dominating factors surely to decide whether or not the school is opened for the 2012 fall semester is sustainability. Roger Jacks, KUSD superintendent, said that if the district opens the school without addressing sustainability, there's a possibility the district would be forced to close it in two or three years. That would be a huge problem, Jacks said in a previous interview.
Issues of sustainability include but are not limited to the district's ability to hire and keep teachers and keep maintenance up-to-date as the school gets off the ground and enrollment numbers increase.
The discussion-based budget workshop takes place at 8 a.m. today at the district office, 3033 MacDonald Ave.