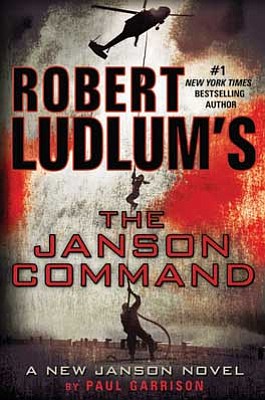 Originally Published: February 10, 2012 6:01 a.m.
Robert Ludlum's The Janson Command, by Paul Garrison; 978-0-446-56450-2; 432 Pages; $27.99; Published February 2012; Hardcover; Published by Hachette Book Group, Grand Central Publishing
Robert Ludlum's best-selling books have always centered on a theme of suspense and action. Ludlum was the author of 26 New York Times best-selling novels.
Ludlum died in 2001, but his legacy of characters live on through additional novels written by an array of authors who continue to captivate the developed audience of 225 million readers.
Paul Garrison is one of those authors who have picked up the baton and has written a spine-tingling novel, the "Janson Command."
Garrison is a renowned author of critically acclaimed thrillers including "Fire and Ice," "Red Sky at Morning," "Buried at Sea," "Sea Hunter" and "The Ripple Effect."
His ability to create scenarios, which are compelling, complete and challenging were hone to perfection so that when he wrote the "Janson Command," he was able to pick up the pace without missing a beat.
Readers will marvel at the first 100 pages, where the intensity of past encounters, new characters, and thrilling exploits move so fast that you cannot escape the compulsion to read on.
Paul Janson is an outstanding lead character who introduces his ingénue, Jessica Kincaid, by demonstrating her skills as a crack shot who is afraid of nothing in her quest to get the bad people.
The involvement between Paul and Jessica makes this a book for adults, but do not be distracted by the side play between them. This book does not center on their relationship, it is about a country which had been overthrown by a despot and is trying to regain its democracy through its previously deposed president.
To keep you entertained, there are plenty of murders, battles in murky waters, travel in luxurious jets, and that is just in the first segment of the book.
One of the outstanding features of Garrison's writing is his ability to set the scene and then swiftly describe the action in detail, but with a paucity of words so that the reader does not get bored.
His description of Janson's personal jet makes you feel as though you are along for the ride. Private jets now seem to be only for those who are engaged in high finance, and Paul is no exception. A select clientele, who pay millions for him to accomplish his assignments, finance his activities.
Paul Janson's background is interspersed throughout this novel, so that as you go along you get a good understanding of what he is capable of doing.
In the past, Paul was a government assassin who would accept missions of eliminating targets of the United States.
He was extremely good at his job, earning the title, "The Machine," an acknowledgement that he was methodical and performed with extreme efficiency.
This thriller ends with a happy conclusion that leaves you satisfied, but at the same time opens the door for the next assignment that Janson and his associates will undertake.
This is a 5-star book, one that appeals to the thriller-lover in all of us.
Publishers Weekly
Best-Sellers
Fiction
1. Taken, by Robert Crais
2. Private: #1 Suspect, by James Patterson and Maxine Paetro
3. The Girl Who Kicked the Hornet's Nest, by Stieg Larsson
4. Believing the Lie, by Elizabeth George
5. Death Comes to Pemberley, by PD James
Non-Fiction
1. Ameritopia: The Unmaking of America, by Mark R. Levin
2. End of Illness, by David B. Agus and Kristin Loberg
3. American Sniper: The Autobiography of the Most Lethal Sniper in U.S. Military History, by Chris Kyle and Scott McEwen and Jim DeFelice
4. Steve Jobs, by Walter Isaacson
5. Taking People with You - The Only Way to Make Big Things Happen, by David Novak
Clark Isaacs is an accomplished book critic who published in local newspapers and national book review lists. He is a member of the faculty of Mohave Community College in Kingman. Visit Clark Isaacs at http://clarkisaacs.ning.com.