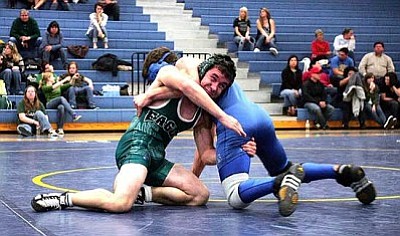 Originally Published: February 10, 2012 6:01 a.m.
KINGMAN - When you walk up the stairs to the Kingman High wrestling room, you are greeted by this quote from Denis Waitely: "The winners in life think constantly in terms of I can, I will and I am."
Andrew Leyva and Matthew Waite will carry those words with them as they look to become the first state wrestling champions at KHS since 1983, beginning their quests today at the State Division II Wrestling tournament in Prescott.
"My expectation is for both of these guys to go out there and have good matches," KHS coach Brandon Clor said.
Leyva enters his 170-pound weight match with Peoria Liberty's Adam Berry with a 44-8 record. His 44 wins are the most in a single season in school history. This is Leyva's second trip to the state tournament.
"At the beginning of the year, I thought I was going to break even like I did last year," said Leyva of his 22-20 record last season. "But then I started to get on a roll and got 25 consecutive wins. I just stepped it up."
Waite enters his first round match with Flagstaff's Michael Salazar with a 35-15 record. He beat Salazar this past weekend in Peoria at sectionals to capture third place.
"This is what I've been working for all my life, all season." Waite said. "I expect to go there and wrestle the best I can."
While Clor was hoping to get six of his wrestlers to state, he is happy to get two out of a very tough sectional as the program continues to build for next year.
"I think out of the No. 1 or No. 2 seeds, eight of them came from our sectional," Clor said. "We have the two most emotionally mature wrestlers going, and they are also the two best wrestlers in the room. We have a foundation, but we have some real problems that we need to address before next season. We came in 19-15 and if we don't address those problems, it will only go down after that."
The biggest problem for Clor is numbers, a problem that bit the Bulldogs many times this season, as they had to forfeit the lighter weight classes and begin each dual match down 12-0. What Clor would like to have is enough kids to run two or three deep in every weight class.
"It's going to be on how can we get the junior high involved in the community," Clor said. "We have the Falcons wrestling going on at Lee Williams and we are going to try and fold them into what's going on with the local schools. The fundamental thing is getting our numbers up and getting them up to where the room is full."
While Clor wants the numbers to go up, the one thing he will have to do in order to accomplish this is overcome the stigma and convince people wrestling is something they want to do.
One way to do this is to tap into the popularity of MMA and UFC and explain that the best fighters have a wrestling background. One example is Brock Lesnar, who compiled a 5-3 record in UFC. Before that, he was 106-5 wrestling in college, including winning the heavyweight national championship for the University of Minnesota in 2000.
"If you look around at the UFC and the best American fighters, they were all collegiate and high school wrestlers," Clor said. "That's the thing we have to sell to the community. If you want to get this foundation of MMA and you want to see what you have to do, then you should be in wrestling."
While getting numbers up is something Clor will worry about in the offseason, the key now is getting Waite and Leyva to place at the state tournament.
"If we really want to take a real shot at being a state champion, they need to feel what it's like to place," Clor said. "The first thing that happens when you place is that you realize that there are better places, and that's what we want to instill with them."