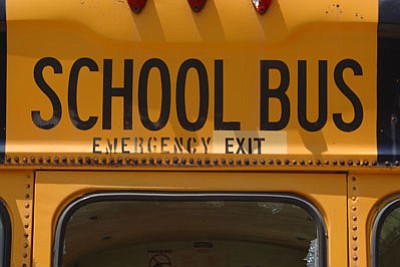 Originally Published: February 12, 2012 6:01 a.m.
A 13-year-old White Cliffs Middle School special needs student was injured Monday after authorities said he opened the emergency exit of the school bus and jumped out while the bus was still moving.
The incident happened in the 2800 block of Thompson Avenue as students were being taken home around 2:20 p.m. Monday.
Mohave County Sheriff Sgt. Don Bischoff said the bus was moving at around 15 miles per hour when the student opened the back door and stepped out of the bus.
Bischoff said surveillance footage shows the student being disruptive during the ride.
"At one point he flipped from one seat to another on the opposite side of the bus and shattered a window with his foot," Bischoff said.
The boy was transported to Kingman Regional Medical Center with a fractured elbow and concussion.
The Arizona Department of Public Safety, which is charged with conducting annual inspections of public school buses, conducted a full inspection of the Kingman Unified School District bus and found that it had no safety issues.
KUSD Superintendent Roger Jacks said the incident occurred on a bus devoted to special needs students. The boy's behavior is being reviewed by school officials.