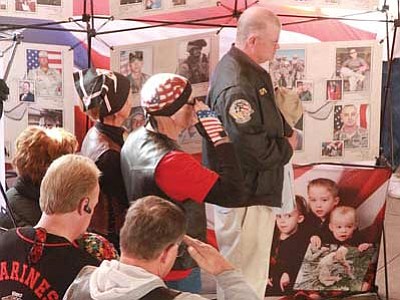 Originally Published: February 13, 2012 6:01 a.m.
City officials, veterans and other members of the community came out Saturday morning to honor 138 Arizonans killed in military service during the Iraq and Afghanistan War on Terror. The event was the opening of the "Remembering Our Fallen" photo exhibit at the Kingman Powerhouse Visitor Center.
Kingman's fallen heroes include Spc. Coty J. Phelps, U.S. Army (died May 17, 2007), Seaman Joshua McIntosh, U.S. Navy (died June 26, 2003), William T. Latham, Staff Sgt., U.S. Army - (died June 19, 2003) and Seferino J. Reyna, Pfc., U.S. Army - (died Aug. 7, 2005).
Also, Petty Officer 2nd Class Justin McNeley, who was a Colorado resident when he joined the Navy, made Kingman his home in 2004. He was killed in Afghanistan on July 23, 2010.
In addition, the family of Pvt. Shauna Lin Ward (died Oct. 15, 2007) of Glendale, attended the ceremony and added her photo to the memorial here.
Bill and Evonne Williams created "Remembering Our Fallen" and Doug Clithero brought it on tour. Taco Bell sponsored the exhibit and the Kingman Powerhouse hosted it.
The Vietnam Veterans of America helped present the ceremony Saturday.
The exhibit will be here through Sunday.
The Powerhouse is located at 120 W. Andy Devine Ave. and is open seven days a week from 8 a.m. to 5 p.m.
For more information, visit http://rememberingourfallen.org.