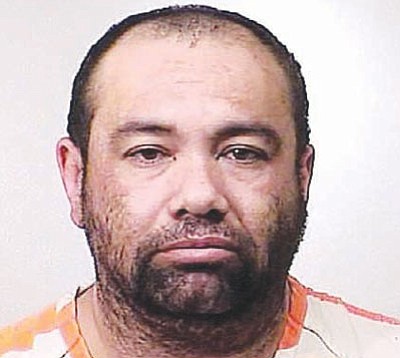 Originally Published: February 16, 2012 6:01 a.m.
As authorities were tracking a call made by a Henderson, Nev. murder suspect, his burning car was discovered on Highway 68 in Golden Valley Tuesday afternoon.
Golden Valley firefighters discovered the body of a woman inside the car. She is described as the man's ex-girlfriend and had reportedly been stabbed to death. Mohave County Sheriff's Spokeswoman Trish Carter said Nevada officials have determined that the murder occurred in Clark County.
John David Marshall, 42, was arrested after Golden Valley firefighters responding to the car fire around 2 p.m. saw him fleeing the scene while carrying what appeared to be a knife. They tracked the man for a brief time. Authorities with the Sheriff's Office and Department of Public Safety later picked up the search and had Marshall in custody within an hour.
Marshall had reportedly called Henderson police while he was still in Nevada earlier that morning and threatened to kill both himself and his ex-girlfriend. Police were able to trace the cell call to a tower in Dolan Springs.
The identity of the woman is being withheld pending notification of next of kin.