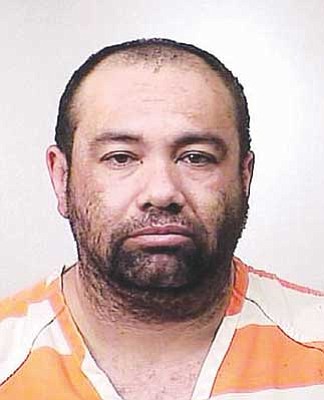 Originally Published: February 17, 2012 6 a.m.
KINGMAN - Nevada officials have begun extradition efforts against a Henderson man accused of murdering a woman and then crossing state lines into Mohave County with her body.
John David Marshall, 42, was arrested Tuesday after he set his car on fire on Highway 68 in Golden Valley. The woman's body was discovered by firefighters as they responded to the fire around 2 p.m. She had apparently been stabbed to death. Her name and age have not been released by authorities.
Marshall was arrested after he was seen fleeing from the car while carrying a knife. He is currently being held in the Mohave County Jail.
Because the murder occurred in Nevada, the investigation is being handled by the Henderson Police Department. The agency clarified that it was actually a friend of the woman's who first called 911 around 11 a.m. saying she had received a call from Marshall where he stated that he had killed the woman and was driving to Boulder City to kill himself.
Officers called Marshall several times and he apparently repeated his threats but would not divulge his location. His cell phone was tracked to towers in Mohave County but he was not found until the car fire was discovered.
Henderson officials said the murder was their first of the year.