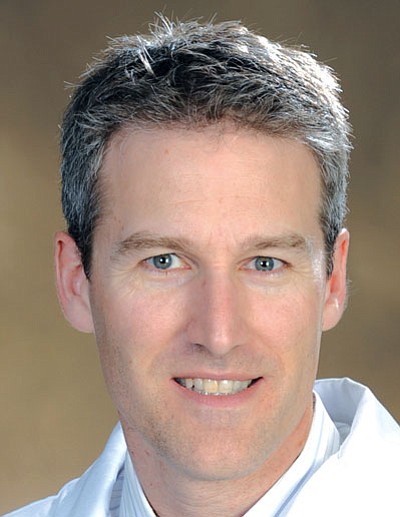 Originally Published: February 21, 2012 6:01 a.m.
KINGMAN - Dr. J. Kent Ferrari, M.D., will discuss "Shoulder Rotator Cuff Tears and Shoulder Arthritis" at Kingman Regional Medical Center's monthly Lunch & Learn which starts at noon March 21.
Lunch & Learn features a different medical professional each month, focusing on important health care topics. The free seminars are held in the Del E. Webb Wellness Center Conference Rooms from noon to 1 p.m. Participants bring their own lunch and KRMC provides a beverage and dessert.
Seating is limited. To ensure enough seating and desserts, please contact KRMC's Public Relations at 681-8514 to make a reservation.
As a fellowship-trained orthopedic surgeon, Ferrari is an expert in the surgical and nonsurgical treatment of bones and joints. He is especially skilled in treating sports injuries, with expertise in arthroscopic shoulder surgery for rotator cuff or other injuries and arthroscopic knee surgery. He is also highly skilled in the latest techniques for joint replacement or partial-joint replacement in shoulders, hips, or knees. Additionally he performs reconstructive ligament and cartilage surgery.
With a life-long interest in competitive sports, Ferrari served as a volunteer physician for a number of athletic events, including the Pan Am Games in Winnipeg, Canada.