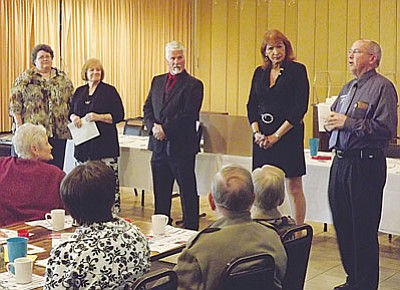 Originally Published: February 22, 2012 6:01 a.m.
KINGMAN - The hypothetical annexation of Butler became a divisive topic at the Kingman Republican Men's Club candidate forum Monday when a member of the audience posed a question regarding the area.
Five of the seven candidates seeking City Council seats gathered at the Elks Lodge, 900 Gates Ave., for the forum and fielded questions posed by the audience. In attendance: Incumbents Robin Gordon and Carole Young along with challengers Mark Wimpee, Larry Carver and Janice Palmer. Candidates Kelly DeMaio and Allen Mossberg were unable to attend.
Now, back to Butler.
Gordon made it clear she believed Butler should be annexed at some point along with other parts of North Kingman. People from North Kingman spend money in town thus providing sales tax revenue, yet they have absolutely no say in how that money is spent, and that's wrong, Gordon said.
If a plan is created that allows the city to annex small portions of North Kingman at a time, complete annexation is something Kingman can accomplish over a period of years, she explained.
Wimpee disagreed.
"I'm opposed to that," Wimpee said, "because the city cannot provide the services."
Young somewhat agreed with Wimpee, but didn't quite rule out Gordon's idea.
Annexation of Butler would be expensive, and the city wouldn't get a return on its investment for a long time, Young said. The city is not in the position to make that move right now, she added. However, she maintains support for the annexation of Butler someday.
Carver somewhat agreed with Young when he compared the, "Why not annex Butler?" question to a police officer asking an innocent man, "When was the last time you beat your wife?"
Carver said he is against the annexation of Butler right now, but in the same breath said it's something that should happen in the future.
The annexation of Butler wasn't the only question that split the panel.
An audience member asked if the candidates were in favor of creating a fire district outside of Kingman in order to save money, as the fire department is one of the most expensive functions of Kingman's government. In fact, the city expects to pay $3,396,413 of its city sales tax revenue for the fire department by the end of this fiscal year.
Palmer said she thinks creating a fire district is a great idea, and added that she would support it if elected.
Young wasn't as hasty with her response. Creating a fire district would take a ballot measure because it would increase property taxes, she said. Young would be more in favor of a city-run ambulance service.
"Would you support paying more property taxes?" Gordon asked the audience, adding that the creation of a fire district would be a community decision.
Carver said the creation of a fire district could be one way to maybe shore up the budget, and then addressed Young's idea of the city running an ambulance service. The city cannot run an ambulance service for a profit, he said.
The city runs nothing for a profit, Young said. The purpose of running an ambulance service would be to offset costs in public safety, she added.
Candidates were mostly in agreement when they answered other questions during the forum. Topics included promoting commercial growth on Bank Street rather than Stockton Hill Road (the city cannot control where businesses choose to locate); moving the fairgrounds out of Kingman (candidates didn't believe Kingman could afford to lose the sales tax revenue coming in by way of fairground events); bringing better events to the fairgrounds (out of Council's hands for the most part, but candidates are hopeful to work more with the Fairgrounds Association); and improving downtown (city is in the process of shopping for grants to pay for downtown street improvements).
Once the audience was through asking questions, the meeting's organizer Laurence Schiff asked the challengers what they would bring to Council that isn't already there.
"Honesty and integrity," Wimpee said, adding that the only agenda he has is making Kingman a better place to live.
Palmer said that through her time on the Kingman Clean City Commission she learned of people basically dumping hazardous materials (oil, transmission fluid, et cetera) down their driveways and into the city's gutters.
Kingman Police Department's Code Enforcement doesn't have the authority to arrest, she said, so Council and the city needs to find a way to stop people from endangering the community.
Carver considers himself someone who always does his best. That aspect, along with his plan to promote tempered growth is what he expects to offer Kingman if elected.
Kingman's primary election takes place March 13.