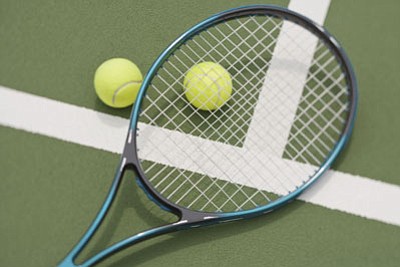 Originally Published: February 23, 2012 6:01 a.m.
The Kingman High girls tennis team basked in the warmth of a late winter's afternoon Tuesday.
With plenty of sunshine and little wind, it was a good day for the Lady Bulldogs to hit the tennis court in preparation for their season opener Friday in Phoenix.
KHS coach Traci Rosenbach hopes days like Tuesday will prove to be a good omen - more sunny days than cloudy ones.
"I'm very optimistic," Rosenbach said. "We are playing new teams and we haven't seen some of them so that is going to be exciting to see how we can compete with them."
KHS returns with Natalie Casson, who advanced to the third round of the Division I State singles tournament and will continue to be Rosenbach's No. 1 player.
Besides Casson, KHS also returns with Jill Collins, Gabby Huffer, Kendra Wilson, Courtney McCans and Alexis Diaz.
"I think we are going to be a lot more well-rounded, we are going to be a lot more stronger," Rosenbach said.
Rosenbach had 20 girls for tryouts on Feb. 6, but that number has fallen to 16 as she looks to fill her junior varsity ranks.
"There is some up and coming talent there," Rosenbach said of the JV team. "We have some new girls and some good girls and some good athletic prospects."
While the future is looking bright, Rosenbach is focused on the present with getting a lineup set in stone and deciding which players to pair up for doubles. Something she will have plenty of time to do this weekend as KHS opens the season at the Kiwanis Tournament, a tournament that Rosenbach wasn't too thrilled about at first.
"At first I was a little upset about it but the more I think about it, the more I think it's going to be a good thing and all the teams are going to be in the same boat," she said.
As the sun brought warmth to the Lady Bulldogs Tuesday, it also brought a sense of optimism for the 2012 season.
"From watching practices for the last two weeks, I'm very impress with their improvements, and I'm very excited for the upcoming year," Rosenbach said.