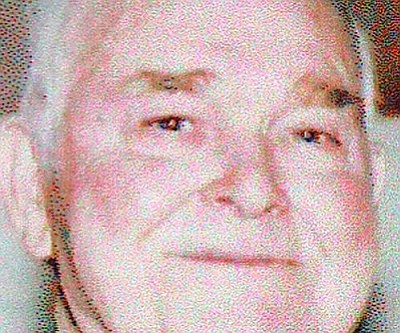 Originally Published: February 28, 2012 6:01 a.m.
Rodney Martin of Kingman passed away Friday, Feb. 17, 2012, after a lengthy illness. He was a beloved father, grandfather, great-grandfather and uncle. He was born in Lee County, Ky., March 3, 1924, the son of Shelby and Anna Martin (Rowland). He was the second of five children born to this union. He grew up in the hills of Kentucky and eventually moved with his family to Moraine City, Ohio.
At the start of WWII, Dad enlisted in the U.S. Coast Guard where he attained the rank of Seaman First Class. He served different duty stations and ships, including USS Cincinnati, and at the Air Station in Elizabeth City, N.C. It was at a USO show he met our mother, Genevieve Dill. Mom was a beautiful young singer who was part of the show. After a whirlwind courtship, they were married July 23, 1944. This union lasted 48 years and five children were born, Brenda (Blake) Schritter, Ronnie (Kim) Martin, Bruce Martin, and twins, Daryl Martin and Gail (J.R.) Hernandez, all of Kingman.
Dad loved the American pastime, baseball, and coached a number of Kingman Little League teams. He was assisted by his nephew, Don Martin. He was the ultimate salesman and was proud of the time he worked for Lovell Rush. When he wasn't working, Dad, like all of the Martin boys, liked to go hunting and fishing, though he was more of an angler than a hunter.
Dad and Mom owned or managed several local businesses. They owned Martin's Maverick 93 service station and restaurant near the present-day Port of Entry on Highway 93. Later they managed the Stuckey's on Highway 66 just east of the airport.
Mom passed away on Aug. 20, 1991, and later Dad married Rhoda Conwell. Dad was a loving stepfather to Rhoda's two children, Rhonda (Gary) Rucker and Jim Collier. Rhoda passed away April 29, 2009.
Dad was preceded in death by his parents, Shelby and Anna Martin, and siblings, Arnie, Omar, Bill and Agatha Martin. He is survived by his sister, Imogene Robertson of Sun City, Ariz. He is also survived by his five children, numerous grandchildren, great-grandchildren, nieces and nephews, and of course his favorite dog, "Shy Boy." Dad loved his family very much and will be missed by all.
Graveside services for friends and family will be at 11 a.m. Saturday, March 3, at Mountain View Cemetery, 1301 Stockton Hill Road. A celebration of his life will follow at Hilltop Foursquare Church, 2215 Emerson Ave.
In lieu of flowers, the family requests donations be made in memory of Rodney Martin to the New Hope Hospice Foundation, 3650 Pointe Circle, Suite 112, Laughlin, NV 89029.
More like this story