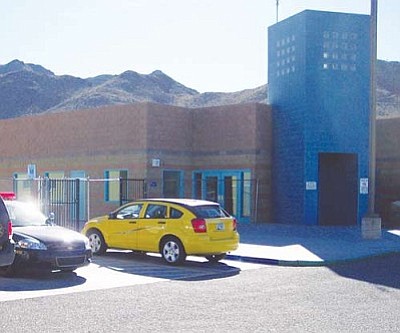 Originally Published: February 29, 2012 6 a.m.
KINGMAN - Once again, the fate of Mount Tipton School is up for discussion, as plans to possibly close the high school and middle school portions are making the rounds.
The school, 16500 Pierce Ferry Road, along with the Kingman Unified School District, is hosting a town hall meeting at 4:30 p.m. today to discuss a potential restructuring.
The district, which has been deficit spending, must cut $4 million from its budget over the next two fiscal years. Prior to the KUSD Governing Board's decision to move forward with opening Lee Williams High School, the district still would've needed to cut $3.2 million (previously reported as $2.6 million) over the next two fiscal years.
For those cuts, options were laid out by district staff and used to conduct a survey of district administrators and teachers. Whether the Board decided to open LWHS or leave it empty, the results of the survey showed that administrators and teachers supported turning Mount Tipton School into an elementary school. The change would save the district about $620,000 over two years.
At the Feb. 2 KUSD budget workshop, Mount Tipton Principal Tony Victory told the Board he supported making Mount Tipton an elementary school. Mount Tipton cannot offer middle school and high school students what they need, Victory said. The school doesn't have enough teachers to teach needed classes, he added.
Victory explained that when students at Mount Tipton fall behind, the only option the school can offer is the online E2020 program.
"There are no options for them," he said.
It's worse when it comes to higher-level courses. For example, students interested in taking physics classes have to take it online.
Victory was asked by the Board if he thought the school would work best serving K-8 students.
"I'm traditional," Victory said. "I would like to see K-6."
Victory added that keeping the middle school students at Mount Tipton wouldn't be too much of a problem. However, the school would need to keep athletics if that were the case.
Out of its fiscal year 2012 general fund, the district is spending over $10,000 per student at Mount Tipton while it spends about $5,500 per student at all other district schools. Wanda Hubbard, KUSD's finance director, explained that the cost difference comes down to the teacher/student ratio.
For example, a 30-student class at Kingman High needs one teacher while a 12-student class at Mount Tipton needs one teacher as well. In both cases, the teacher's salary is comparable.
Rebecca Smith has four children who attend Mount Tipton. She also co-owns the restaurant Mystic Munchies. Parents and community members were given less than 48-hours notice about the town hall meeting, she said.
Mount Tipton is more than a school; it's the community's centerpiece, Smith said. She would've liked to have seen people notified sooner, as it takes time to mobilize the community into getting to the town hall in order to voice their opinions.
"If they remove a portion of the school, it will be devastating for the town," she said.
There are a lot of different ramifications - including ones based in economics - to any decision that restructures Mount Tipton, Smith said.
"We love the idea of the school," Smith said. "We're so proud of what we're doing."
Mount Tipton has made significant educational strides over the last couple years, including being given a B-rating by the Arizona Department of Education. Unlike federal No Child Left Behind standards, the ADE's rating system takes into account student growth, something Mount Tipton has excelled at recently.
Smith doesn't understand why this is coming up now, and believes a round-table discussion that includes community members, parents, Mount Tipton staff, KUSD staff and the Board is in order. Maybe there are some other options out there that a real discussion can bring to the surface, she said.
"Maybe we can come up with a solution together," she said. "I admire and support district administration. They've done a great job, but we need more dialogue."
Smith, along with a great portion of the community, will be at the town hall meeting, as they're ready to hear what district officials have to say. They're ready to offer their opinions as well.
Although money is part of the problem, KUSD Superintendent Roger Jacks said it's more about opportunity. Among other things, there are more courses and activities available at Kingman schools, offering students more chances to get the education they seek, he said.
This town hall meeting, which Jacks, Hubbard and Victory will all attend, is a chance for the community to voice its concerns, opinions and solutions. Jacks said people will be able to ask that the Board delay its March 6 Mount Tipton vote as well.
"We really want (the community of Dolan Springs') input," Jacks said. "That's the reason for the meeting."
Nothing is set in stone, and all KUSD wants to do is discuss the situation. Similar to all decisions made by KUSD, it comes down to how the Board votes.