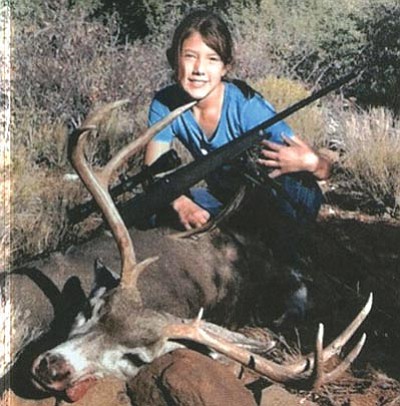 Originally Published: January 5, 2012 6:01 a.m.
Every once in a while I hear about one of our local young hunters who gets very lucky when it comes to drawing tags.
Remember Jake Cave and his draw of four elk tags?
Today, we're going to hear about this fall's hunting experiences of an 11-year-old young lady from Kingman who really likes to hunt, and has she got the luck to draw Arizona's big game tags!
Shaunti Short started off her hunting career a couple of years ago by graduating as one of our top students in our local Arizona Hunter Education class. She was one of those kids that we as instructors just knew was going to be a real hunter.
Last year, she drew a juniors only deer tag in Unit 18B and she bagged a awesome 4 X 4 buck.
This year, Shaunti hit the jackpot again for Unit 18B.
She drew a general antlerless elk tag, plus another junior's only deer tag and she completed the sweep with a junior's only javelina tag!
This young lady comes from a long-time Kingman family who believes in passing on the hunting tradition.
Her grandfather is Jim Short and her father is Westy.
The Short family has hunted Unit 18B many, many times in the past, so they had a pretty good idea on where to find all of the animals that Shaunti had tags for.
Her elk hunt was first and on opening weekend of the hunt, the first day turned out to be a bust. No elk were seen.
The next weekend they made a long hike onto a mesa and sure enough a small group of elk were seen. There were three cows and two calves. All were legal.
They made a great spot and talked on the herd, and Shaunti was able to take one of the cows with a shot at 200 yards with a 308 rifle.
"It was a big cow!" Shaunti said with a smile.
On the opening weekend of the junior's only deer and javelina season, she got her pig fairly quickly.
Shaunti was riding with her grandfather and her dad was following. It was Westy who saw a group of pigs off in the distance.
"I told them to stop, that I had seen a herd of pigs, so they turned around and came back," he said.
They got Shaunti set up and started a stalk on the herd.
While they were sneaking in, they jumped up a small mule deer buck.
"We were focused on the pigs, so we let the forky go," Westy said.
Once Shaunti got set up with her 243 rifle on the bi-pod she took careful aim and fired.
The young boar literally dropped in his tracks.
Now Shaunti and her family would put all their efforts into finding her a buck, and that didn't take long.
On the second day of the hunt, in a two hour span, they saw eight different bucks!
Shaunti and her dad put the stalk on a couple of them, and while she got shots, she missed.
So they continued on and a few days later while hunting with her grandfather Jim, they saw a huge mule deer buck. They tried to close the distance, but she never got within range.
While Unit 18B is not generally known as a trophy area, there is none-the-less some big deer out there. And the kids are hunting at a time where the bucks are in the pre-rut, so there is always the chance to see a real boomer.
The next day it was Shaunti who glassed up a good buck. It was about 800 yards away when she spotted it with her binoculars.
They carefully started the stalk and once again got to within 200 yards of the unsuspecting deer.
She got her trusty 243 rifle down on the bi-pod, took a deep breath and squeezed off the shot.
The 24-inch 3 X 3 went down and Shaunti had completed her task of taking three of Arizona's big game animals in a span of less than two weeks!