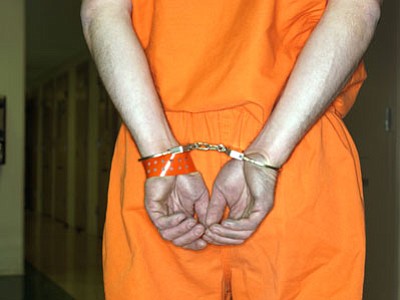 Originally Published: January 6, 2012 6 a.m.
The city's proposed intergovernmental agreement with La Paz County to house Kingman inmates hit somewhat of a snag Tuesday, as Vice Mayor Robin Gordon requested portions of the agreement be written with more clarity.
Once approved, Kingman gets to house its sentenced prisoners in the La Paz County Adult Detention Facility for $65 a day. By doing this, the city can avoid paying $92 a day to house each sentenced prisoner at the Mohave County Jail.
The agreement stipulates the responsibilities, including transportation and medical care, of Kingman and La Paz County. Gordon would like to see the section regarding transportation responsibilities clarified.
As is, it is La Paz County's responsibility to provide roundtrip transportation to inmates. Kingman, in turn, pays La Paz 51-cents per mile to carry out that task. It is understood that more than one inmate can be transported at once, but it doesn't say that in the agreement.
Gordon wants that changed.
If it's not clarified that the rate is not per prisoner per trip, it could be considered a loophole in the future, Gordon said.
"I think it needs to be spelled out," she said. "I'd rather it be clear."
City Attorney Carl Cooper said the language can be amended, but it's possible La Paz County will have to re-approve the agreement. Also, Council won't see an amended version of the agreement until its next meeting Jan. 17.
"We can work it out," Cooper said. "It's just going to take more time."
It's estimated that each roundtrip will cost the city about $100. But this is where it gets confusing. If La Paz County jail officials are up here on unrelated business and pick Kingman inmates up on their way back, Kingman is responsible for paying the 51-cents a mile for the trip back. However, if La Paz County officials come up here solely to pick up inmates, then Kingman is responsible for both ways. Likewise, once a prisoner is released, La Paz County officials will make attempts to secure rides home for the former inmates from the inmates' families and friends. If nothing can be set up, Kingman will then pay La Paz County to bring them back to Kingman.
Even if La Paz decided to charge per prisoner for transportation, Cooper said the city would still save a lot of money across the board.
The city plans to continue utilizing the Mohave County Jail to house short-term inmates without a sentence. Cooper said he is not sure how many days in jail it takes for the cost comparison between Mohave County and La Paz County jails to break even. However, he estimates seven days, meaning once a person is sentenced to more than seven days in jail he or she goes to La Paz County.
In other business, Council approved the extinguishment of a 50-foot wide public utility and drainage easement for a property that will be owned by Maverik Inc near the southeast corner of Andy Devine and Airway avenues. Maverik, in turn, agreed to grant the city a 20-foot wide easement on the same property. The company plans to build a gas station and convenience store at the location.
Councilmember Janet Watson said she was concerned with drivers entering the lot once there is a gas station there from the westbound lane of Airway. She believes it has the potential to cause congestion problem, as she envisions people just stopping in the left lane while waiting for a chance to turn into the station.
Although the lot plans feature two driveways, there is an out for the city if traffic counts on Airway reaches a certain level. The city can eliminate that driveway if traffic levels make turning into the station dangerous for drivers.
Also, Arizona Department of Transportation Kingman District Supervisor Mike Kondelis - who was at the meeting because the city was recognizing him for his years of service to the community - told Council that ADOT has yet to approve a permit for the Maverik driveways.
Maverik and ADOT are currently in negotiations and the issue may be more complicated than it looks, Kondelis said. The easement agreement is stipulated on ADOT's approval.
Other decisions of note:
• Council set a tentative date of Feb. 9 for a strategic pre-draft budget work session with department directors. The goal is for Council to pick the brains of department heads regarding savings and cuts while also voicing its goals moving forward.
• Council approved a change order for electrical work at the 911 call center. No new money was approved, as money granted by Council in December will cover the costs of the change.
• Council appointed Ronald Ellstrom to the unexpired term of Economic Development and Marketing Commissioner Robert Dominguez.