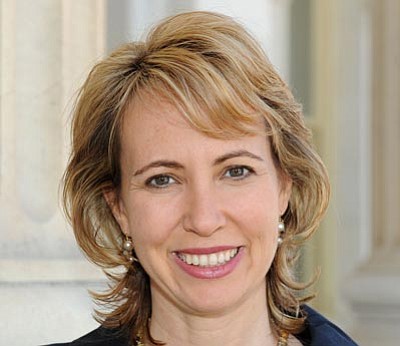 Originally Published: January 8, 2012 6:01 a.m.
Rep. Gabrielle Giffords, other survivors of the Tucson shooting rampage and numerous others will come together in the close-knit southern Arizona city today to commemorate the one-year mark of that tragic day and remember those who died.
A number of events are planned for today, including a candlelight vigil, which Giffords plans to attend.
Giffords' husband, former astronaut Mark Kelly, will be one of the speakers at today's evening's vigil, which will be held at the University of Arizona. Giffords' spokesman Mark Kimble says the congresswoman will not grant any interviews while she's in Tucson.
The event is designed to honor those who survived and to remember the six people who were killed in the Jan. 8, 2011, shooting.
Other survivors of the shooting, including Giffords' staffers Ron Barber and Pam Simon, plan on going to every event that they can. Others, like 76-year-old survivor Mavy Stoddard - whose husband died shielding her from bullets - plan on staying home with loved ones who will help them get through the emotional day.
"The whole weekend of the anniversary, I think is going to be tough," Barber said recently during an interview in Giffords' Tucson office.
Barber was shot in the cheek and thigh during the shooting. Barber still walks with a cane, meets with a therapist and is working on a part-time basis because of fatigue.
Barber has been reliving the terrible moments of the shooting in nightmares and flashbacks as he helps plan events marking the day, which he envisions as a time of togetherness and healing for Tucson.
"This wasn't just an emotional wound for those of us who were there, but our entire community was shocked - a lot of people still cry when they see me," Barber said. "We're bringing the community together in a way that they came together (after the shooting)."
In the weeks following the tragedy, Tucson residents turned out in droves to contribute to memorials at Giffords' office, the hospital where survivors were treated and in front of the grocery store where the shooting happened. All of the people wounded that day say that their neighbors brought them food that kept them fed for two months.
"This community really rallied around itself and us," Barber said. "And I know the congresswoman wants to be here to be a part of that."
The events planned include a community-wide ringing of bells at churches and by people throughout the city at 10:11 a.m., the exact time the shooting broke out, an interfaith service at St. Augustine Cathedral where people of all religions are invited to pray and reflect, and a series of talks reflecting the lives of Giffords and the six people killed in the shooting.
During the talks, being held on the University of Arizona campus, Colorado Sen. Mark Udall will speak about Giffords.
Other speakers include federal Judge Raner Collins speaking for shooting victim and fellow Judge John Roll, Barber speaking for Mavy Stoddard's husband Dory, and Serenity Hammerich, who will talk about her best friend and the youngest shooting victim, 9-year-old Christina-Taylor Green.
Capping off the events will be a candlelight vigil at the university.