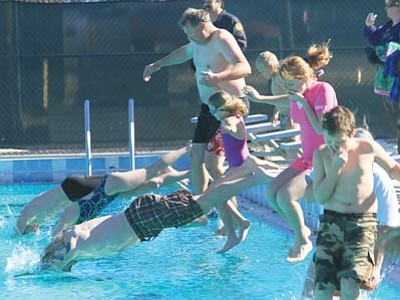 Originally Published: January 8, 2012 6 a.m.
The City of Kingman Parks & Recreation Department brought in the New Year as they hosted the 11th Annual Polar Bear Plunge on Jan. 1.
With over 100 spectators in attendance and over 50 brave participants, the swimmers leapt into Centennial Pool's 43-degree water.
Participants had the opportunity to dive below and win assorted prizes.
Winners included Ian Durrett, Victoria Depner, Brady Cowin, John Cook, Phil Durrett and Jazzman Early.