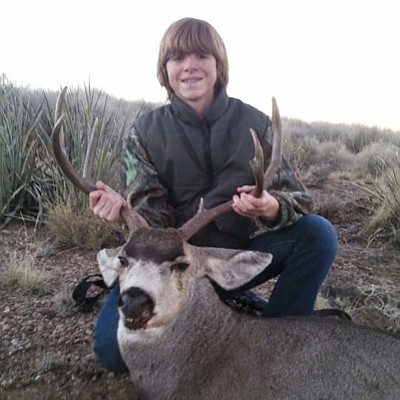 Originally Published: January 11, 2012 6:01 a.m.
One of the locally favorite hunts of the year, the junior's only muzzleloader deer hunt in the Hualapai Mountains (Unit 16A) has come to a close and this year, local junior hunters did very well on the two week hunt.
The hunt is popular for two reasons.
First, the hunt is at a time when the kids are out of school for Christmas break. There are few, if any, conflicts with school activities and most area school administrators have no issues.
Then, there is the fact that the deer are starting into the annual rut. This means that these young hunters will probably see more deer and bucks than they ever will on a regular hunt.
This hunt, which had just 30 tags, a reduction of five tags from the past year, also means that the kids don't have any competition when they are out hunting.
If they see a herd of deer, they don't have to worry about another hunter charging over the ridge and shooting their mark.
It enables those who are out there with the kids to work with them on all of the aspects of hunting.
Those out with the kids on the hunt can teach them how to use binoculars, then how to make a stalk and set up for a shot.
It is a perfect situation for the young hunters who are lucky enough to draw one of these tags.
This year, there were a lot of local kids, both boys and girls, who drew tags.
For the most part, the folks on the hunt worked together, telling each other where they were seeing deer, and in some cases, went out and helped their friends and neighbors when their kids' hunts were done.
I recently did a television show with one of the local kids who was successful on his hunt.
Lane Brock, 13, is an 8th grader at Kingman Academy and is no stranger in the hunting world.
When he was 10 years old, he drew a muzzleloader tag for Unit 16A, and despite seeing deer, he was unable to wrap a tag on a buck, but that is hunting - you don't always fill a tag.
Then in the spring of 2009, he drew a junior's javelina tag and bagged a big boar with his 243 rifle.
That fall, he missed drawing a junior's tag, but got a general rifle deer tag in Unit 16A. On opening day, hunting with his mom Michelle, he bagged his first deer, a 3 X 2 buck.
In 2010, Brock drew a fall general deer tag in Unit 16A, but didn't fill the tag.
In 2011, he drew one of the tags for the muzzleloader junior's hunt in Unit 16A.
On the first two days of the hunt, Brock and his family didn't see much. Finally, they saw some small bucks and one big buck, but Brock didn't get a chance for a deer until Christmas Day.
They were glassing when they saw a 20-inch wide, three point buck with a group of does.
Brock and his father Pat made a stalk and Brock bagged the buck with one shot at just over 100 yards.
This was fairly typical of what happened on this year's junior's only muzzleloader deer hunt.
The kids saw a number of bucks and one young lady, 17-year-old Bailey Schreiner, on her last junior's hunt, bagged a great 6 X 4 buck that was over 23 inches wide.
The Chastain brothers took a 23 inch 3 X 3 and a 2 X 2 on the hunt, while D.J. Godfrey from Kingman took a nice 4 X 4 buck.
Most of the bucks taken were 2 X 2's or 3 X 3's that sported racks no wider than 20 inches.
Though most of these bucks are not what many adults would consider "trophy" bucks, to the kids, each one of them was a trophy, no matter how big the rack was.
This is a hunt that we have fought for in the past.
Local young hunters benefit from the hunt and hopefully this will be a hunt that the youth in our community and around the state will enjoy for many years to come.
More like this story