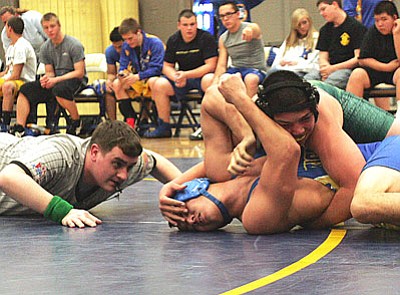 Originally Published: January 11, 2012 6:01 a.m.
KINGMAN - With open weight classes at 106 and 113-pounds, the Kingman High wrestling team is always in a hole when starting each duel meet.
The only question is entering the meets. Can the Bulldogs dig themselves out of the 12-0 early hole?
Unfortunately for KHS, on Monday the answer was no as Flagstaff got a pin at 145 and a major decision at 152 en route to a 52-24 win in one of two home meets for the Bulldogs.
"Every match we start off down by a minimal of 12 points and we have to overcome that," KHS coach Brandon Clor said. "We can't trade match for match with anybody if we are already down by 12 points."
Josh Estensen's 7-6 decision at 120 and Dalton Delong's pin at the 1:14 mark in his 126 match closed the gap to 12-9, and Matthew Waite's pin of Flagstaff's Brandon Neely at 138 brought the Bulldogs to within three at 18-15.
But the Eagles' pin of Jacob Josh (145) at the 2:50 mark increased Flagstaff's lead to 24-15, and Jade Lloyd's 9-1 major decision of C.J. Gore (152) increased it even further to 28-15 to put the match out of reach.
"They are good," said of Clor of Flagstaff. "I thought we had a chance today, but we've been struggling. We were beat tired, most of the guys got seven or eight matches over the weekend."
Over the weekend, the Bulldogs placed third at the Joseph City Invitational. It was the first time in over 10 years that a KHS wrestling team has placed at a tournament.
Monday's meet was the first of two home meets for the Bulldogs as their only other home meet will be Jan. 25 against Flagstaff Coconino.
"It's nice to be at home, the travel is always something, but we are Kingman, we travel forever," Clor said. "No one here is losing sleep over it. We like to have the home crowd, but we know we are going to spend the most of our time on the road. It is what it is."
The Bulldogs will hit the road again this weekend, traveling to Winslow for the Doc Wright Invitational.