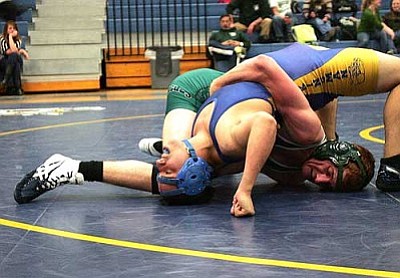 Originally Published: January 13, 2012 6 a.m.
KINGMAN - When the Kingman High wrestling team finished third at the Joseph City Invitational, it did something that no other KHS wrestling team has done in about 10 years - place at a tournament.
It was a goal the Bulldogs set for themselves to accomplish this year, and now that it has been achieved, it's time for a new one.
"That was one of our goals," KHS wrestling coach Brandon Clor said. "Now our next goal is to win a tournament."
KHS went 6-1 at the Joseph City Tournament to improve its record to 16-7, a complete reversal from the 6-16 mark at the same point last year. However, it is going to take a Herculean effort by KHS this weekend to even place, let alone win the Doc Wright Invitational in Winslow.
"I don't know if Winslow is the place," Clor said of winning. "It's a tough tournament and we know what we are going into. We came out of it last year with three guys placing and we worked our butts off."
Clor added that with it being a 32-team field, it's a grueling tournament because the margin for error is so limited.
"To be successful, you must be wrestling at your best and make few or no mistakes," Clor said. "I'm hoping to do well. I'm being realistic, I think we can get top five or six. But top four will be Herculean."
One wrestler the Bulldogs will look to have a good showing this weekend is Andrew Leyva at 170. Leyva suffered his first loss of the year in the finals at Joseph City, an overtime decision to Chino Valley's Patch Dalcerro.
"I was so upset, especially since I was the only one in the finals," Leyva said. "I felt like I had to do it for my team."
While the loss was disappointing for him, the good news for Leyva is he will get another opportunity for a rematch with Dalcerro this weekend.
"He's a resilient kid," Clor said. "I think having a little bit of humility is going to help and he will be ready to go again. He is looking to win a tournament again. He won Agua Fria but now he's ready to do it again."
Besides Leyva, the Bulldogs will also look to Matthew Waite at 138 and Thomas Canez at 160 to have good showings this weekend.
"We've been wrestling really well," Waite said. "We just need to keep wresting like we have been, especially at Joe City. We went there and got a trophy. That was one of our goals for the season. It's been a long time since our school has won one."
KHS in the midst of a busy January schedule, traveling to Avondale on Wednesday for a five-team meet with Avondale Agua Fria, Avondale La Joya, Goodyear Millennium and Surprise Willow Canyon, and then traveling to the Mohave Invitational Tournament next weekend.
"The confidence that we gained over the weekend is so important," Clor said. "The guys all got a taste of being successful and success breeds success."