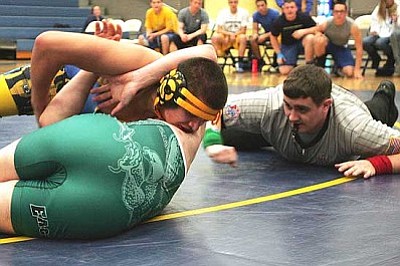 Originally Published: January 20, 2012 6 a.m.
KINGMAN - First it was a fire alarm that tried to disrupt the Kingman High wrestling team during a dual meet with Bullhead City Mohave on Dec. 14.
Then it was a broken bus.
The Bulldogs were traveling to Avondale Wednesday for a meet with Agua Fria, Millennium, La Joya and Willow Canyon when the bus had mechanical problems in Wickenburg.
The problems resulted in the Bulldogs weighing in an hour late.
Despite the delay, KHS went 3-1, picking up wins over Avondale La Joya, Surprise Willow Canyon and Avondale Agua Fria. The Bulldogs lost to Goodyear Millennium.
"We wrestled great considering the situation," KHS coach Brandon Clor said.
With the three wins Wednesday, the Bulldogs improved to 19-8, guaranteeing them a winning season.
Over the weekend, the Bulldogs placed 21st at the Doc Wright Invitational in Winslow with a team score of 53.50.
Andrew Leyva (170 pounds) and Ritchie Williams (220) were the only two Bulldog wrestlers to place at the tournament. Both finished sixth, with Leyva dropping his fifth place match 6-1 to Chino Valley's Patch Dalcerro and Williams dropping his fifth place 5-4 to Gilbert's Steve Bundy.
"We were intimidated at Doc Wright and struggled to be ready for our matches," Clor said. "It showed on the match and in our results, having only two place winners. We almost always wrestle better in duals than we do in tournaments, and it gives me some nerves with sectionals and state on the horizon."
KHS will travel to the Mohave Invitational this weekend before hosting its final dual meet at 6 p.m. Wednesday against Flagstaff Coconino. The Bulldogs will have a week to prepare for the sectional tournament on Feb. 3-4, with the Division II state individual meet the following weekend in Prescott.