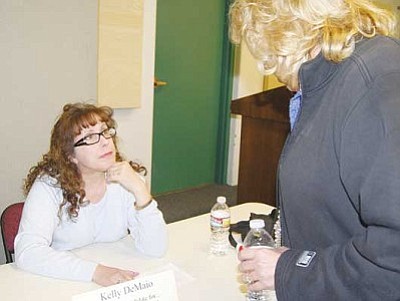 Originally Published: January 20, 2012 6:01 a.m.
KINGMAN - All but one of the candidates running in Kingman's mayoral and Council races showed up at the Powerhouse Visitors Center Wednesday for a chance to introduce themselves and carry on conversations with local voters.
The Business and Government Committee of the Kingman area Chamber of Commerce sponsored the event, which was - for the most part - non-confrontational.
Candidates were given two minutes each to introduce themselves. Once introductions were completed, candidates broke off to their respective tables where local voters got to approach them with questions and concerns regarding the community.
Mayoral hopeful Bill Goodale said he believes it's his duty to help Kingman grow.
"Kingman is positioned for the right type of growth," Goodale said.
Goodale doesn't want to turn Kingman into California, but he said he would like to make Kingman "the most livable city in America."
The other challenger for mayor, Ed Jones, spoke about his time in the Army and his 20 years with the Los Angeles Police Department.
"I know how to make snap decisions and long-term decisions," Jones said.
Mayor John Salem thanked the community for letting him serve and asked for another term. The Council has made some very good decisions, and it's actively engaged in making the community better, Salem said.
Councilmember Robin Gordon, who's seeking re-election, said the community is very important to her, and her favorite part of the job is being able to speak to the people she serves around town on a daily basis. Voting is important, Gordon said, and local elections are one of the few places where people can have their voice heard.
The other Council incumbent, Carole Young, reiterated her commitment to public safety and economic development, and said her platform has not changed.
Newcomer Janice Palmer, who's seeking one of the three Council seats opening up, said she is different from the other candidates in many ways.
"I've worked my entire life to help people," she said, pointing to her time as a first responder and her experience in politics. "You want someone to work for you instead of themselves."
Council hopefuls Kelly DeMaio and Larry Carver said they are seeking office because they would like to give back to the community that has given them so much.
A former highway patrolman and current financial advisor with Edward Jones, Carver said he would be able to share his "semi-expertise" in finance with the city if elected.
Lastly, Mark Wimpee, who is also seeking a seat on Council, said he's been in several leadership roles within the community, including being a member of the Kingsmen.
Brett Hale, another Council challenger, was unable to attend because he is in the hospital.
Many of the audience members talked about being excited to have new blood running for office, but others said they wanted to see some real improvements regarding the budget and the financial decisions Council makes.
"Nothing in the budget should be off limits to cuts," said resident Eve Gravlyn, including furloughs.