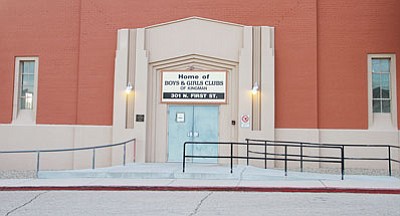 Originally Published: January 24, 2012 6 a.m.
KINGMAN - Noreen Frisch, director of the Boys & Girls Club of Kingman, is used to doing a lot with less. So, when the possibility to receive a recovery act grant arose in 2009, she jumped at the chance to get a piece of the $44.4 million that went to the Boy's & Girls Club of America.
It wasn't easy.
"It was a very competitive process," Frisch said, "but it was worth the effort. Without it we wouldn't have had the staff to work with all the kids on all the projects."
The club prevailed in the process, receiving an ARRA grant for $44,475. The accounting process for the Department of Justice money was time-consuming, Frisch said, but worth the effort for the benefit of the kids.
"Oh, we had to do time sheets and account for everything to the dollar and tell them what it was used for," she said.
In 2010, more than 3,700 youngsters came to the Kingman club. During the school year, Frisch said 80 to 100 children come each day, and that number increases during the summer months to 120 to 130.
Normally funded through community donations, the Boys & Girls Club offers a wide range of programs, from a homework room and art and physical activities to career development programs and MethSmart, an educational experience that teaches the dangers of drug use and other risky behaviors.
Frisch said the club also has a secret weapon, noted train author Bob Del Grosso, who comes in regularly to interact with the kids.
"It's nice to have him," she said, "because being an author he carries a bit more weight than us regular folks."
The grant money is long gone, but Frisch said that community donations have been strong enough to keep all the club's 13 employees.
"I didn't have to let them go because the grant was over," she said. "The support in this community is unbelievable. The donors are really stepping up to the plate."