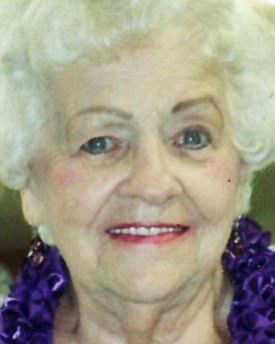 Originally Published: January 29, 2012 6:01 a.m.
Gladys Hoover, 83, of Kingman passed away Thursday, Jan. 26, 2012, in Kingman. She was born March 15, 1928, in Chicago to Alice (Slez) and Anthony Koran. She moved to Kingman from Chicago approximately 35 years ago. She was very active in the Moose Lodge.
Gladys is survived by her husband, Martin Hoover of Kingman; two daughters, Deborah Blanco of Kingman and Bernadette Bachelder of Chicago; and two sisters, Carol (Virgil) Vandecar and Toni (Zeke) Mesa, both of Kingman. She is also survived by two grandchildren, Roy (Courtney) Blanco and Bridget (Matthew) Graham; one great-granddaughter, Kristin Graham; her special daughter, Erma (Chip) Lorion of Kingman; and her stepson, Joseph (Nancy) Hoover of Manitowoc, Wis. She was predeceased by her son, Roy Bachelder Jr.; and her sister, Lorraine (Jay) Greer.
A celebration of the life of Gladys will be held in March at the Moose Lodge.
In lieu of flowers, donations can be sent in her memory to the Moose Lodge No. 1704, P.O. Box 4236, Kingman, AZ 86402-4236.