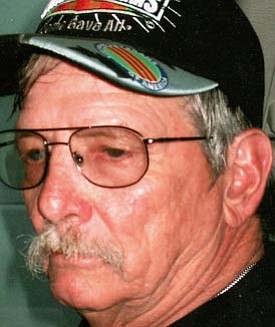 Originally Published: July 1, 2012 6:01 a.m.
A true American hero passed away Tuesday, June 12, 2012. John William Anthony, also known as Cowboy John, Skinny John, and Tony, was born Oct. 22, 1947, in Barstow, Calif. John attended Fontana High School and volunteered for the Army upon graduation. He was an Army LRRP (Long Range Recon Patrol) in the 101st Airborne and a member of the 162nd Assault Helicopter Company as an elite door gunner. (One out of every five door gunners was killed in Vietnam.)
After the service, John became a professional bull rider, making it to the National Finals in 1976. He also worked construction and was part of the Tamale Wagon sprint car racing team. After being diagnosed with Marfan Syndrome, John settled in Chloride as a professional cowboy working for rancher Bill Hamilton.
John often played guitar on the boardwalk outside Shep's Café and shared his cowboy poetry in the Vaudeville shows and during karaoke. (Even though he knew the words to every song, his voice was never strong enough to carry a tune.) John was an avid pool player, loved camping, fishing, reading, NASCAR and NFL Cowboys. For many years, John was the service officer for Chloride VFW Post 2190.
John was preceded in death by his parents, Jake and Mildred Anthony of Fontana, Calif.; sisters, Della Mae Yost of Hesperia, Calif., and Barbara Holland of Las Vegas; and son, Lance Cpl. Ronald H. Hulse Jr. of Chloride. He was also preceded in death by nephews, Jerry Lee and Orvin Orebaugh Sr., Jimmy Holland, and Jack (Hoss) Anthony; and nieces, Janet Wheelington and Laurie Jean Matzenauer/Schene.
John is survived by his wife, Cynthia Anthony, of Chloride; sons, Roland Hulse (Conni) of Golden Valley and Jim Holiday of Texas; brother, Jack Anthony of Chloride; sisters, Ruth Matzenauer of Fontana and Carol White of Dallas and Linda Anthony of Golden Valley; four grandchildren; and numerous nieces, nephews, and cousins.
John will be missed by his many friends and family members for his intelligence, wry sense of humor, his cowboy poetry, and his love of music, life and country.
After a long, hard battle with Marfan Syndrome and PTSD, may John find peace and rest with our Lord and Maker in Heaven, strumming his guitar and riding his favorite horse with his Australian Shepherd, Sassafras, running alongside.