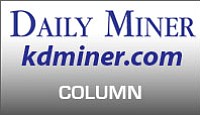 Originally Published: July 2, 2012 6:01 a.m.
Here in the northwest corner of Arizona, we love our history and freedom.
Mohave County is the home of the longest stretch of U.S. Route 66, "Mother Road," and the symbol of America's free spirit. We are also known for local government acting somewhat like the Gunfight at the OK Corral: A little lawlessness mixed in with the use of force. Sometimes it's done for good, more often not.
For example, when the county seat moved to Kingman in 1887 after the railroad came through, the citizens of Mineral Park refused to give up the county records. So Kingman citizens crept in by dark of night, absconded with them, returning to Kingman before dawn. Outraged and not to be outdone, Mineral Park folks came down to Kingman a few nights later and burned down the building holding the records!
This type of lawlessness continues to this day in various forms within the management of county government. Numerous stories echo across the mountains and fill the washes of Mohave County's history.
So it shouldn't surprise anyone when taxpayers in Mohave County are strong-armed into paying much higher taxes for "special taxing districts" such as library, flood control and TV improvement.
During last year's budget battle, County Manager Ron Walker and Finance Director John Timko argued for higher primary property tax levies to maintain his desired 2-percent revenue increase, commenting that since the levy rates for "Special Taxing Districts" as defined in Arizona Revised Statutes (ARS) Title 48 were unchanged, there would be less revenue coming into the county coffers. Since these secondary property taxes are based on the same reduced valuations, the same levy rates would result in lower tax revenues. However, this was a silly argument. These moneys can ONLY be used for the purpose designated.
When comparing these secondary tax levies with other counties, you notice one glaring difference. Other counties adjust their rates annually, based on budgetary restraints, but Mohave County's rates are virtually unchanged for more than a decade, regardless of the actual expenditures.
The statutes require these levy rates be based on the actual needs with allowances for contingencies. There shouldn't be huge reserves in these districts because they can't be used elsewhere. Instead, there's a whopping $40 million combined! Nowhere in Arizona are reserves this high, as much as 10 times the district's annual expenditures.
So imagine my surprise when, in spite of a $22.5 million surplus in the Flood Control District, Walker proposed withholding from the cities $2.6 million for their projects at the May 7 supervisors' meeting! He said he hated being "Scrooge," but recommended that the supervisors, acting as the board of directors, not distribute the proposed funds.
Walker wasn't being a Scrooge, rather he was blasting their budgets. Why would he screw them over, when these funds were for flood control, and the cities' taxpayers paid the funds? Besides, the law prevented them from doing so. That's when Walker dropped the bombshell. He stated that there was going to be a new state law that would allow the county to "sweep" funds from these special districts into the county's General Fund. What? This county manager who repeatedly used the term "stealing" to describe state sweeps, is now doing the same to the cities' flood control allocations? What irony!
This "new" state law to which Walker referred, SB1526 Sec. 26, isn't really a change in the statutes. Instead, it's an appropriations bill allowing counties to sweep funds, which was signed into law by Gov. Brewer that very afternoon! The Legislature had granted the same provision in previous years, but it was kept hidden by Timko in past budget deliberations.
So why did this come to light now? After sweeping $15 million from the districts over the past four years, why did Walker make it public now? Simply put, when Walker chose to give no money to the cities for flood control this year, he used alleged budget problems as an excuse to withhold the funds.
But Walker's real motivation was clear, in my opinion - city leaders who choked at the $98 daily fee at the county's new jail and found cheaper alternatives in neighboring communities. By bypassing the county altogether, they raised Walker's ire. This, I believe, was Walker's rationale for withholding all $4 million originally budgeted. Like the citizens of Mineral Park, he couldn't let this go unanswered - there was a house to burn down!
Who said the Wild West was tamed? Not in Mohave County!
Robinson is the District 2 director for Mohave County Republican Party, but the views presented here are entirely his own.