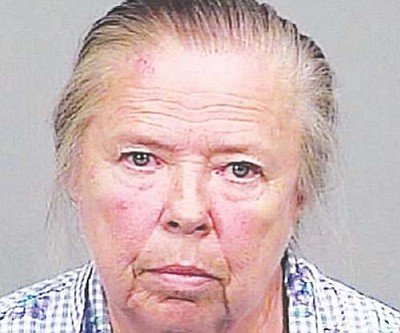 Originally Published: July 4, 2012 6 a.m.
KINGMAN - A Kingman woman arrested for driving off in her repossessed car while it was still attached to the tow truck said she wasn't running from the police. She said she fled from the people she claimed were illegally seizing her car.
In an email sent this week to several friends as well as the Miner, Sharon Holmes, 68, also denied pointing or firing her gun at anyone, although she writes that she "showed it to the tow truck driver in side profile."
She said she made a payment of just under $600 on the truck nine days before a repossession agent came to Holmes' residence in the 600 block of Grandview Avenue around 7:15 p.m. June 26.
She said she removed the portable tow lights off her Jeep but that it was still connected by two cables. She argued with the agent that she was up-to-date on paying the car note.
"When the police refused to listen to me, I dropped the Jeep into 4WD Low and hit the gas with the power of that Hemi engine, and broke loose from the unmarked tow truck, went around two police cars just arriving on the scene, and took off into the County with them in pursuit," she wrote. "I wasn't running from the police, I was running from the tow truck."
She said that when she drove off, she did so with the intent of going to the bank to get receipts or to the dealership from where the car was bought, both of which she realized would have been closed on a Sunday evening.
She said her car didn't become disabled on Fort Beale Road during the chase as police claimed but that she voluntarily stopped so no one would get hurt.
Later in her email, however, she appears to taunt the police officers who pursued her.
"Bottom line, the boys cannot stand the idea that an old lady outsmarted them all," she wrote. "If I had turned the car into the mountains they would have destroyed every police car trying to follow me. And I am a better pursuit driver than any one of them will ever be."
She closes her email by saying that she intends to file a lawsuit against the car dealership and finance company for conspiracy, "and eventually another one against the Kingman PD and the County jail, for damages and slander of both myself and the Republican Party."
Holmes was a delegate to a GOP convention in Phoenix in May.
She is scheduled to appear in court later this week on charges of aggravated assault, flight from law enforcement and criminal damage related to the June 26 incident.