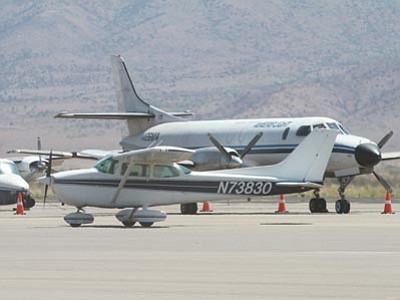 Originally Published: July 8, 2012 6:01 a.m.
The $1.6 million facelift for Kingman Airport's runways starts today and will result in intermittent runway closures over the next 60 days.
Though both of the airport's runways are slated for rehabilitation work, the main runway, 3/21, is the primary focus. Kingman Airport Authority Executive Director Dave French said the plan is to grind off the first two inches of surface on the main runway then put a new surface on it.
"It'll be like a brand new runway," French said.
The airport's secondary runway, 17/35, is scheduled to have its cracks filled. Both runways will receive new striping, and there are plans to upgrade the airfield's lighting system as well.
Throughout the 60 days, both runaways will be intermittently closed. The airport will be completely closed from 6 p.m. July 20 to 3 p.m. July 21 when contractors work on the intersection of the two runways.
The reason for the complete overhaul of the main runway is safety because it has deteriorated - as runways do - since the last time a similar project was done 12 years ago, French said. Traditionally, runways should receive rehabilitation every 10 years, but the fact that it's been 12 years for this particular runway doesn't make that much of a difference, he added.
"It's time," French said.
With the airport's main runway - it's the wider of the two - receiving the majority of the work, the airport will need to rely more on its secondary runway. This would be a problem if large planes, such as 747s and 767s, were scheduled for takeoff or landing from the airport in the next two months. The secondary runway isn't big enough to support those types of planes, French said.
"That's not happening, though," French said. All aircraft scheduled to use the airport in the next 60 days are small enough to use the secondary runway.
The money for the project comes from a Federal Aviation Administration grant. The Arizona Dept. of Public Safety Aeronautics Division and the Kingman Airport Authority also provided matching funds.
The federal portion is $1,599,556. Both the Dept. of Public Safety portion and the Airport Authority portion is $42,100 apiece. The total amount of money is $1,683,756.
The dates and times of runway closures:
• Runway 3/21 (main) is closed from 6 p.m. today to 6 p.m. July 24.
• Full airport closed from 6 p.m. July 20 to 3 p.m. July 21.
• Runway 17/35 (secondary) is closed from 4 a.m. Aug. 6 to 6 p.m. Aug. 10.
• Runway 3/21 (main) is closed from 4 a.m. Aug. 27 to 6 p.m. Aug. 29.
Though unlikely, these dates and times are subject to change. If a change does occur, information will be dispersed as needed.
Call (928) 757-2134 for more information.