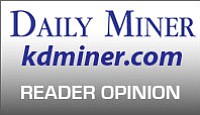 Originally Published: July 9, 2012 6:01 a.m.
The Friends of the Golden Valley Library thank the Daily Miner for the publicity for the June all-you-can-eat spaghetti fundraiser that Castle Rock Bar and Grill sponsored. Thanks, Castle Rock Bar and Grill for the addition to The Friends treasury. All moneys go to support the GV Library.
Friends of the Golden Valley Library is a nonprofit organization that supports the Golden Valley Library. Individual/family memberships are $5 a year, business memberships are $10, and lifetime memberships are $100. Meetings are held at 1 p.m. the first Saturday of the month at the Golden Valley Library except for June, July, and August. Applications are available at the library.
The Golden Valley Library is at 3417 N. Verde Road. Library hours are from 9 a.m. to 3 p.m. Tuesday, from noon to 6 p.m. Thursday, and from 10 a.m. to 1 p.m. Saturday. The phone number is (928) 565-2989.
Carole G. Anderson
Golden Valley