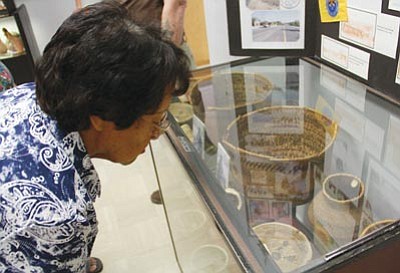 Originally Published: July 9, 2012 6:01 a.m.
The Mohave Museum of History and Arts hosted a celebration Saturday morning of a new relationship between its staff and the Hualapai Tribe, as well as a tribute to former museum director and mural artist Roy Purcell.
The Mohave County Historical Society returned nine Hualapai baskets to the tribe, some of which will be on display at the Hualapai Tribe Cultural Center in Peach Springs, 880 Highway 66. The museum and the tribe plan to continue working together to enrich the knowledge of both.
Louise Benson, chairwoman of the Hualapai Tribe, spoke about the Hualapai baskets and other cultural items that had been kept all these years by the museum.
"I know, at some points, we feel bad about it, but at the same time I have to look at it in this manner: It's something that they have kept for us, stored for us, and now it's going to be returned to us," she said. "I don't even mind having it stay there because we're part of Mohave County, and I think that people should be able to see these things.
"The Hualapai people have been here since time immemorial ... I really feel good today; I feel good for my people and the work we have done ... We finally have a Cultural Center in Peach Springs ... Now we can be able to add on to it and show our culture and traditions."
A special plaque was also revealed that morning, dedicated to showcasing the work that Roy Purcell has done for the museum. The museum's first director and the painter of the murals that line the front room of the museum, Purcell made important contributions to the place that remain and are enjoyed by visitors today.
The "mural room" was officially dedicated as the "Roy Purcell Room" Saturday. Purcell recounted how he became the museum's first director almost by accident: he had originally only been interested in volunteering to do some murals for the museum, but was asked to become the director instead (and was told he could then proceed with the murals as he saw fit). After some soul-searching and listening to his "Old Man Inside" inner voice, he decided to accept.
He approached things a little differently than some had expected and consequently had a rocky start, but over time people began to like and value what he did.
Several new displays can be seen at the museum. For more information, call the museum at 928-753-3195.