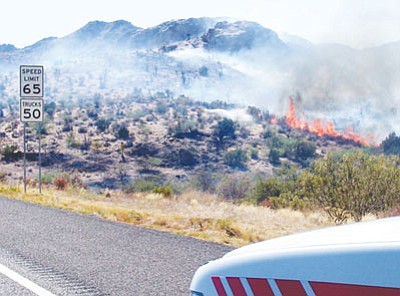 Originally Published: July 11, 2012 6:01 a.m.
Two firefighters sustained minor injuries as they worked in triple-digit heat to put out a brushfire Monday afternoon.
Fire Chief Tom O'Donohue said Golden Valley firefighters were dispatched around 2:45 p.m. to milepost 12 on Highway 68 where a fire was burning along the highway and into the northern hillside.  
Assistant Chief Ted Martin called for mutual-aid assistance from the Bureau of Land Management and Bullhead and Kingman fire departments. Crews worked for several hours to bring the fire under control.
The Department of Public Safety and Arizona Department of Transportation provided traffic control and ADOT provided two more water tenders for an additional 4,000 gallons of water.
O'Donohue said Golden Valley turned the scene over to BLM because the fire was burning on state lands.
O'Donohue said that, in all, four fire agencies with a total of 14 fire vehicles and 28 firefighters responded and brought the fire under control by 8 p.m.
One firefighter suffered heat exhaustion and one injured his arm, although neither required transport to the hospital.
O'Donohue said that drivers can expect to see fire crews working at the scene today to ensure there are no hotspots that could cause a flare-up.