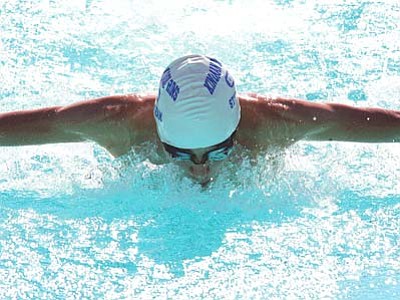 Originally Published: July 12, 2012 6 a.m.
The Kingman Dolphins set 19 new team records at the Arizona regional and supplemental meets Friday-Sunday at Centennial Park pool, while at the same time qualifying 12 swimmers for the state age group meet and four swimmers for the senior state meet.
"I am so excited for all of them," Dolphins competitive swim coach Teri Rose said. "Last year we had no attendees to senior state even though we had qualifiers, so I am very pleased to see them make the trip this year."
Kael Juelfs set records in the 100, 50, and 200 breaststroke for the 11-12 age group, while Marco Narvarte set records in the 100, and 50 freestyles as well as the 50 breaststroke and 50 butterfly.
Becca Ramirez and Nic Depner set records in the 9-10 age group. Ramirez had records in the 100 backstroke and 100 freestyle, while Depner set a new mark in the 400 freestyle.
Victoria Depner set a new mark in the 1500 freestyle and Maddie Houltram had a new record in the 200 freestyle for the 13-14 age group.
In the 15-plus age group, Heather Weninger set new marks in the 200 and 400 freestyle, 50 backstroke and 400 individual medley. Makayla Newberry set new records in the 50 and 200 breaststroke and Jeff Watkins had a new mark in the 200 backstroke.
"It was a long, hot weekend with much success many personal bests were reached," Rose said.
Newberry and Watkins will join Patrick Webb and Jacob Miyauchi at this weekend's State Senior meet, while Houltram will join Giancarlo Narvarte, Max Rose, Jeremy Coffey, Victoria Depner, Christina Barton, Marco Narvarte, Kael Juelfs, Jacob Catalfamo, Diego Navarte, Nic Depner, and Kade Juelfs at the Age Group State meet, July 19-22.