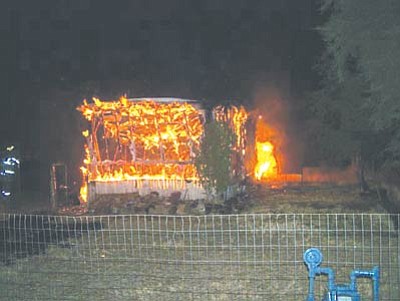 Originally Published: July 12, 2012 6:01 a.m.
Northern Arizona Consolidated firefighters were busy responding to three structure fires in a 12-hour span Tuesday.
Fire Chief Pat Moore said the first report came in around 11:39 a.m. when a homeowner in the 7900 block of Avenida Mendez was unable to control a fire while burning weeds in the yard.
The fire ended up spreading to the home, which was destroyed, Moore said.
The second fire was reported around 1 p.m. in the 900 Block of John Norman Lane after cooking grease reportedly caught fire.
Moore said firefighters were able to contain the fire to the kitchen and living room, although the rest of the home suffered significant smoke damage.
The third call came in around 10:35 p.m. for a burning mobile home in the 3600 block of Oriole Lane. That home was destroyed and a neighboring home sustained minor damage, Moore said.
The cause of that fire has not been determined, he said, adding that it appears suspicious. Anyone with information regarding the fire is urged to contact the Mohave County Sheriff's Office at (928) 753-0753.
No injuries to the occupants of the homes or to the responding firefighters were reported at any of the three fires, Moore said.