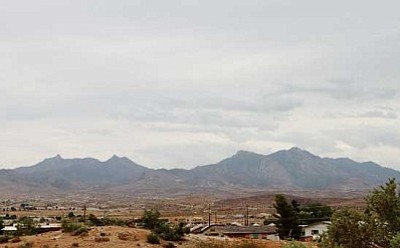 Originally Published: July 13, 2012 6:01 a.m.
KINGMAN - The National Weather Service is forecasting increased thunderstorm activity through the weekend, with the greatest chance of rain coming today.
A high of just 92 degrees is predicted for today with a 60 percent chance of rain and scattered thunderstorms in the Kingman and surrounding areas.
The forecast is similar for Saturday and Sunday, when the chance of rain is 40 percent.
NWS Meteorologist Mike Staudenmaier out of Las Vegas said that during monsoon season, thunderstorms typically peak in the afternoon. What makes this weekend's weather system unique is an upper level atmospheric disturbance caused by storms in Mexico that will push the thunderstorms here into the evening and possibly overnight.
The monsoon season, which normally starts in early July, is right on schedule. The wind outfactored the rain on Thursday, but the County's automated ALERT Flood Warning System stations recorded limited amounts of rainfall on Wednesday.
The Rancho Santa Fe station southeast of Kingman recorded a half-inch of rain between 4:22 and 4:32 p.m. Wednesday. The Hualapai Foothills station, also in southeast Kingman, recorded a quarter-inch of rain during a seven-minute period around the same time.
The Rock Canyon station, located about eight miles southeast of Peach Springs, also recorded a quarter-inch of rainfall around 2 p.m. This rainfall coincided with a severe thunderstorm warning issued for that area by the National Weather Service.
Residents are warned that lightning and flash floods are possible with the thunderstorms.