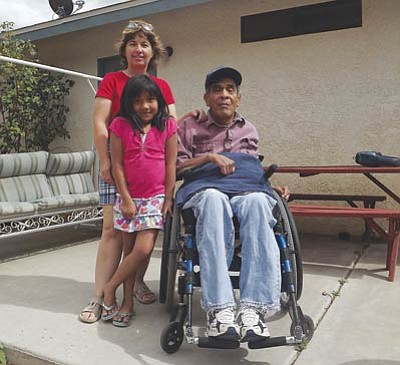 Originally Published: July 16, 2012 6:01 a.m.
If you want to complete a project and you're given a choice between spending $23,000 and $2,300, you're going to choose the latter - unless you've got money to burn.
Now, imagine there's a law that says for you to get your project done, you must pay the $23,000. You would be angry, right?
Essentially, that's the situation Karen and Leonard Zeyouma are faced with. They want to add a room to the home they own, but they have a septic system, which is positioned such that there's only 11 feet of space to work with.
The couple requested that Kingman's Municipal Utilities Commission allow them to simply rotate their septic system so that it sits parallel rather than perpendicular with their home. The move would've given them an extra seven feet of space to work with for the expansion.
Their request was denied based on section 4.3 of Kingman's utility regulations. The law, enacted in 2004, says, "After a public sewer is available, development on a previously undeveloped property or redevelopment of a previously developed property shall be connected to the public sewer system."
Available, in this context, refers to properties within 500 feet of an existing sewer main, and the Zeyoumas' property falls within that range. Under this rule, how much room they have to build is irrelevant because any sort of redevelopment invokes the law.
"It's just crazy," Leonard said.
They appealed the commission's denial to City Council. After a brief discussion, Council denied their request as well.
"We can't afford to hook up to city sewer and expand our home the way we wanted to," Karen said. "No one should have to pay this much to tie into sewer."
The price is so high because there are no homes to share the cost between their property and the line. That means the full price of extending the line to their house falls on their shoulders.
To compare, the cost of relocating their septic system would cost just over $2,000.
The Zeyoumas would like to propose a change to the ordinance to allow them to remodel. If there is no negative impact on the community and no need to change the septic field, then property owners would be exempt.
If the changes are not going to cause problems, then "the city has no right to tell us what we can do with our property that we pay taxes on," Karen said.
Mike Bihuniak, president of Residents Against Irresponsible Development, said he and fellow member Harley Pettit felt the Zeyoumas were getting hosed (no pun intended). They arranged a meeting with Mayor John Salem and City Manager Jack Kramer to discuss the issue. Kramer and Salem explained the city's predicament and the justification for the law, and Bihuniak and Petit asked that Salem take part in a town hall meeting to answer questions regarding this issue as well as a few others. Salem agreed.
The 500-feet rule could force people to spend $50,000 to connect to a sewer line, Bihuniak said.
"Who can afford that type of money?" Bihuniak asked. "It seems so grossly unfair, but I realize there is a money issue here (for the city)."
Over the years, Kingman got itself into a lot of problems regarding septic systems, Salem said. Lots with similar profiles to the Zeyouma property saw many septic systems fail over time, leaving the ground saturated with contaminants and nowhere for the wastewater to go, he said.
The only way to combat this problem is to force people with failing septic systems to connect to the city's sewer system, and that's where the law affecting the Zeyoumas came from, Salem said.
"The rules have evolved over the years," Salem said. "But we were so far out of compliance that we had to do something. The ordinances are written to protect the health of the systems and community."
Plus, the city doesn't want the Arizona Department of Environmental Quality coming in and saying, "fix this problem or we'll fix it for you," Salem said.
The biggest issue is that there are 18,000 water customers. Half of them have septic systems. The life expectancy of a septic system is roughly 20 years, so there's most likely going to be a rash of failures occurring at the same time, Salem said.
There are solutions, such as appropriating Community Development Block Grant money, which is available once every two years, to improving sewer access for people in similar positions as the Zeyoumas, Salem said.
Another long-term solution would allow the city to impose a flat sewer connection fee, but the city would need more sewer lines to do that, so that's a long way off, he said.
"For all intents and purposes, the law is working as intended," Salem said. "The Zeyoumas' situation is not the norm, and there's no such thing as a one-size-fits-all approach."
The town hall meeting, where Salem hopes to discuss with the community this issue as well as others, takes place at 6 p.m. Wednesday in the Hualapai Room of the Del E. Webb Wellness Center, 1719 E. Beverly Ave.
More like this story