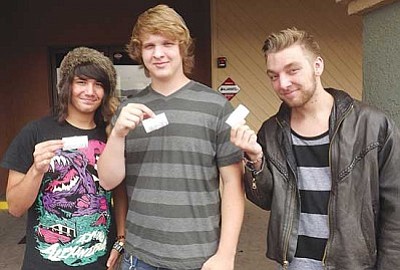 Originally Published: July 20, 2012 6:01 a.m.
KINGMAN - Batman is serious about fighting crime. His fans are serious about watching him do it, especially the ones who went out of their way to get advance tickets to Thursday's midnight showing of "The Dark Knight Rises," the third installment in director Christopher Nolan's Batman trilogy.
"People were here at 6 a.m. (Thursday) banging on windows and trying to get tickets," said Kathy DuVall, supervisor at Brenden Kingman Cinemas. "Batman is special."
Between 11 a.m. and 11:30 Thursday, the theater sold about 40 tickets. DuVall, at the time, expected the show to sell out by the afternoon.
"We're not sold out yet," Duvall said Thursday morning. "But we're getting close."
Alex Olvera, 17, went to the theater Thursday morning with two of his friends, Brandon Turk and Jeremy Elrod, to pick up tickets for the show.
"I'm looking forward to how they follow up with Heath Ledger," Olvera said. The late Ledger won an Oscar - after his death - for his portrayal of the Joker in the part two of the trilogy, "The Dark Knight."
All three of the guys said they were excitedabout the new super villain, Bane, a murderous criminal with abnormal strength.
"It looks pretty awesome," Elrod said.
Los Angeles Times film critic Kenneth Turran's review of the film promises that people expecting great things from the movie will not be disappointed.
He writes: "A disturbing experience we live through as much as a film we watch, this dazzling conclusion to director Christopher Nolan's Batman trilogy is more than an exceptional superhero movie, it is masterful filmmaking by any standard. So much so that, its considerable 2-hour, 44-minute length notwithstanding, as soon as it's over, all you want to do is see it all over again."
Not all critics agree. Christy Lemire of the Seattle Times was not impressed, calling it boring at one point in her review.
She writes: "Nolan's approach is so coldly cerebral that it's a detriment to the film's emotional core. It's all doom and gloom and no heart. There is no reason to care about these characters, who function more as cogs in an elaborate, chaotic machine than as real people whose souls are at stake."
Whether the film enthralls its viewers or puts them to sleep is yet to be seen, as the movie officially releases today all over the country. But pretty much everyone agrees that it's going to make a ton of money.
According to the website Box Office Mojo, "The Dark Knight Rises" will pull in just over $214 million this weekend. If the prediction is accurate, the film would set a new opening weekend record by beating out the $207 million debut of "The Avengers."
For those who couldn't make the midnight showing, don't fret. It's showing all weekend at 11:30 a.m., 3:05 p.m., 6:30 p.m. and 9:55 p.m. The Kingman Cinemas are located at 4055 Stockton Hill Road.
The theater offers midnight shows often - two weekends ago it showed "The Amazing Spiderman." DuVall said it was packed, and several people were dressed up as the web-slinging hero.
"We look forward to midnight shows," DuVall said. "It's our busy time of year, and the shows are always a great time."