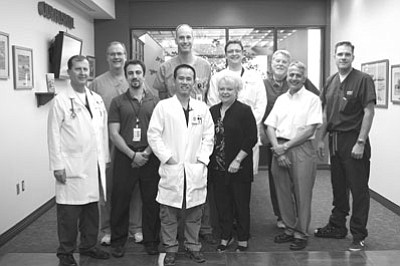 Originally Published: July 22, 2012 6 a.m.
FLAGSTAFF - SCF Arizona, the state's largest workers' compensation provider, honored the Kingman Regional Medical Center as one of its "Best of the Best" in workplace safety for the year 2011.
During a ceremony Tuesday at the High Country Conference Center, Kingman Regional Medical Center was among 30 companies the work comp provider saluted for efforts in keeping workers safe in Northern Arizona. Of the insurer's more than 25,000 policyholders, only 120 companies statewide received the award for 2011 results.
"A good safety record is no accident," said Don Smith, president and CEO of SCF Arizona. "Companies that focus on safety are making a good investment in their businesses. Our objective is for workers to be safe on the job; that's what we are about. And the best defense is prevention - reducing risk and stopping injuries before they happen.
"The award-winning companies have made a commitment to keeping their workers safe on the job and the payoff is not only financial, it is emotional," Smith added.
SCF pores over its data to identify companies that qualify for a Best of the Best recognition, examining policyholders' loss records, claims reports, financial reporting records, loss ratios and experience modification factors, explained Rick Jones, senior vice president of sales and business development for SCF Arizona.
SCF's account representatives, loss control consultants and managers weigh in to identify those candidates that:
• Belong to one of the organizations in the SCF Arizona Association Safety Program;
• Are in good standing with SCF Arizona or one of its subsidiaries;
• Actively encourage workplace safety and work collaboratively with their SCF loss control consultants to ensure a safe workplace;
• Demonstrate a high commitment to workplace safety and to their employees.
"The winners of a Best of the Best award earned the recognition, because they help to keep their employees safe and are helping us to build a culture of safety throughout Arizona," Jones said.