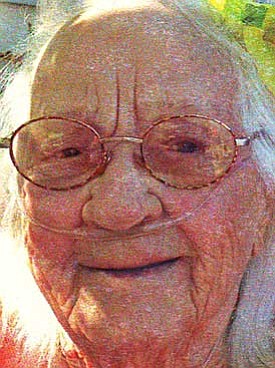 Originally Published: July 22, 2012 6:01 a.m.
Vera Opal Sones was surrounded by her friends and family as she embraced eternal life to be with the Lord on Friday, June 29, 2012. Vera was born on April 21, 1913, in Mullin, Texas.
Vera was preceded in death by her parents; husband, Ellis Sones; brother, William Hays; two sisters, Oleta Everett and Pearl Hays; and son, Leonard Hardy. Vera is survived by her brother, George Hays; daughter, Rhonda Shultz; sons, Roger Sones and Rolland Sones; son-in-law, Kenny Shultz; six grandchildren, Debbie Hardy, Craig Hardy, Ryan Shultz, Brady Shultz, Brandi Aguilar and Amellia Sones; three great-grandchildren; and several friends.
Vera and Ellis started their life in Kingman in 1967, coming from Anaheim, Calif. They were active members of the Seventh-day Adventist Church and always spread their love for the Lord.
Vera and Ellis owned Sones Health Foods in Kingman for many years until they retired and moved to Arkansas in 1980. Upon the death of Ellis in 1983, Vera moved back to Kingman to be closer to her family. Vera lived a long, full and happy life in which she was very active and had many hobbies, which included quilting, traveling, going to the Goodwill, and spending time with her loved ones.
Please join her family as they celebrate her life at 1 p.m. Friday, July 27, at the Seventh-day Adventist Church, 3180 White Cliffs Road, Kingman.