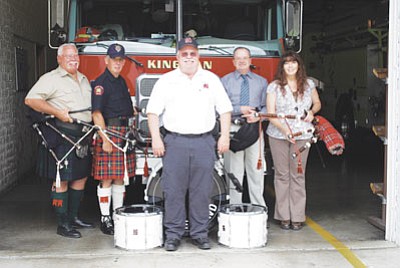 Originally Published: July 23, 2012 6:01 a.m.
The Kingman Fire Department Honor Guard is thanking their friends at the Calgary Police Service Pipe Band for an act of kindness that saved them at least $3,000.
Calgary band member Terry Clark asked his Kingman friends and fellow bagpipers Jim Glover and Fred Warring if they'd like a set of drums that were being replaced by the Canadian ensemble.
Clark and his wife, Liz, even drove the 18 hours to Kingman to hand over the gently-used musical instruments.
"We couldn't be happier with this donation," said KFD Chief Chuck Osterman. "The thoughtfulness of our friends in Calgary has moved our Honor Guard Band dream to a reality."
KFD said the cost of a new set of drums is around $3,000-$4,000. The KFD Honor Guard performs on a regular basis in the area and frequently travels throughout the state for funerals and memorial services.
The Honor Guard unit is a volunteer group consisting of Kingman Fire Department and IAFF # 4191 members and is funded through donations and fundraisers.