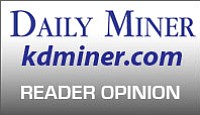 Originally Published: July 23, 2012 6:01 a.m.
We would like to take the time and thank the entire community of Kingman for their support, well wishes and condolences after the tragic passing of our daughter Loralai on June 13, 2012. We truly do appreciate everything everyone has done to help us over the past month.
We want to thank all 25 businesses around town who allowed a donation jar to be placed in their establishments and to our friends, family and the anonymous people who have graciously donated not only money, but also your time. You are all greatly appreciated and we can never thank anyone enough.
We would also like to thank our employers at Sears Hometown Store and Ace Hardware for being truly understanding and giving us all the time off we need, without question, to grieve and spend time with our son and visiting family members.
Though our pain will last throughout our lifetime, it comforts us to know that we have so many people supporting us and that we are not alone in our grief, so please accept our sincerest thank you from the bottom of our hearts.
Steven, Krista and Alexander Gambrel
Kingman