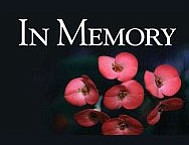 Originally Published: July 24, 2012 6:01 a.m.
Howard Thomas Staley Sr., 87, former resident of Kingman died Tuesday, July 17, 2012, in Newton Falls, Ohio. He was born May 7, 1925, in Eagerton, Ohio.
Visitation will be from 11 a.m. to 1 p.m. Saturday, July 28, with the service following at 1 p.m. at Sutton Memorial Funeral Home, 1701 Sycamore Ave. Interment will be at Mountain View Cemetery, 1301 Stockton Hill Rd.