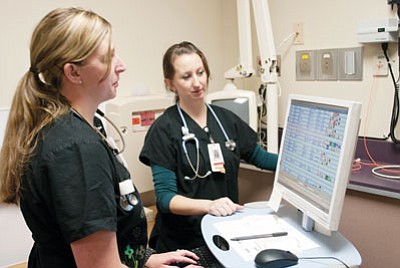 Originally Published: July 26, 2012 6:01 a.m.
KINGMAN - Kingman Regional Medical Center faces a rough road as it tries to meet federal requirements for secure electronic medical records by 2015.
Some of the less technically savvy doctors are having a hard time adjusting to the new records system, said KRMC Chief Medical Officer Dr. Deborah Bennett and Chief Information Officer Bob Sarnecki.
Both Bennett and Sarnecki pointed to a letter to the editor in the July 19 Kingman Daily Miner, where a patient stated that her doctor had to cut the number of patients he could see because of the new system.
"We've had the same system for five or six years and just recently switched to this one," Bennett said. "It's sort of like taking off your old comfortable shoes and putting on a brand new pair. You have to get used to them."
The change in systems is not coming at the request of the hospital, Sarnecki said.
It's the result of the Health Information Technology for Economic and Clinic Health Act, which was part of the 2009 stimulus bill.
The act was a supplement to the Health Insurance Portability and Accountability Act of 1996, which was supposed to make it easier for patients to get access to their medical records and yet protect them from prying eyes at the same time, by nudging doctors and hospitals into switching electronic records.
The HITEC Health Act turned the nudge into a demand. Doctors and hospitals who do not have a secure electronic records system up and running by 2014 will have their Medicare and Medicaid payments docked.
The act is designed to ensure the security of patients' medical records. It requires hospitals to install systems that will protect the security of electronic records and to report any breaches of security to the media, the federal government and any patients whose records may have been hacked. It also imposes multi-million dollar fines for breaches of security.
In order to help get the ball rolling, the federal government offered hospitals and doctors more than $27 billion over 10 years to help pay for the new systems, according to the U.S. Department of Health and Human Services.
KRMC has been working on meeting the federal guidelines for the last two years, Sarnecki said. The hospital actually set up a committee made up of doctors, staff, administration and the information technology department to test and determine which of the many systems available was the best fit for KRMC.
In order to meet the requirements, KRMC actually has to install two different records management systems, he said, one for the doctors' offices and one for the hospital, because there isn't a management system that does both on the market yet.
There's a difference in how hospital and office records are created and stored, he said. A hospital may only keep records on a patient for as long as the patient is in the hospital and then ship the information to the person's doctor for follow up care, Sarnecki said. A doctor is much more likely to hold onto a patient's records so they can compare how the person is doing from year to year.
The trick was picking two different systems that would work with each other and transfer records securely from the hospital to the office and back, he said. In the end, the committee decided to go with a system called NextGen for the offices and another called Soarian for the hospital.
Both systems earned high marks from other hospitals and doctors, Sarnecki said. Banner Health and the Mayo Clinic both use NextGen. The two systems also have a good history of being able to transfer information back and forth.
"We went and checked out a number of different systems used by the larger hospitals in Phoenix," Bennett said. "We loved NextGen. It had everything we were looking for, ease of use and all the bells and whistles we needed."
KRMC started installing NextGen in doctors' offices in February and started training staff and doctors in March, Sarnecki said. The hospital is moving slowly, installing the systems in two doctors' offices a week, making sure that both staff and the physicians are comfortable with the program before moving on.
Many of the doctors have cut the number of patients they see in order to give themselves and their staff enough time to learn the system, he said.
"(NextGen) is different from the other system we were using. So it is taking a little time for the doctors and their staff to get back up to speed," Bennett said. But the doctors that have been using it for the last few months are back up and running and doing really well, she said.
But anyone who has tried to implement new software or a new computer system into their business knows, it can be quite frustrating for everyone involved, Sarnecki said. You have to install the system and make sure it works properly. Doctors and their staff have to learn the new system, too.
With the NextGen system, each patient has to be entered into the system as if they were a brand new patient, he said. He acknowledged that this can be time consuming and exasperating for everyone involved. Sarnecki said it took his doctor's assistant 10 to 20 minutes to re-enter all of his patient information at a recent check up.
Once the information is in the system, any doctor or staff member who has the correct access code in the KRMC network or at the hospital can access that information and add to it, he said. The information can even be sent to other hospitals in other cities, such as Las Vegas or Phoenix.
It makes it much easier to treat patients who live in Kingman or Mohave County only part of the year, Bennett said. The hospital can easily contact their doctor in another state and establish a linked medical record.
Since everything is typed in, nurses and pharmacists don't have to try to decipher scribbled notes from doctors, which helps prevent mistakes such as duplicate tests and procedures, a patient receiving the wrong medication or dose of medication, Sarnecki said. Prescriptions, except narcotics, are also electronically transmitted to pharmacies.
"It's really kind of neat," Sarnecki said. He had blood work drawn for a program that gives him a discount on his health insurance. His regular doctor had access to that lab record without having to call the lab or the insurance company.
"I left my doctor's office that day with a piece of paper with more information and with a better understanding of my health than ever before. I felt like I was a part of the conversation," he said. That sheet of paper included his blood pressure, pulse, weight, height, lab results, a list of doctor's orders, prescriptions and his doctor's comments on all of it.
The computer can also remind doctors to ask specific questions about a health complaint a patient might have, Bennett said.
For example, a patient comes in complaining of stomach pain, she said. A doctor can see that the patient was already tested for ulcers and the computer will generate a list of suggested questions to narrow down what else the problem might be.
Doctors don't have to use the suggested questions, Bennett said, but it can be helpful to keep the conversation between doctor and patient on topic.
In order to protect the security of patient's records each doctor, nurse and staff member is given a different access ID and password, Sarnecki said. His department can keep track of who logged into a computer, what file they accessed and at what time and date.
Sharing a password or ID, or using someone else's to gain access to records you are not authorized to acces will result in the termination of your job at KRMC, he said.
The system is also protected from outside hackers, Sarnecki said. All of the information is stored on two servers at KRMC and the former Hualapai Mountain Medical Center. No patient information is stored on the doctor's or staff's computers. So, if a doctor's laptop was stolen or lost, no private patient information would be lost.
The hospital hired a firm that attempts to hack the servers on a regular basis to test the security of the system.
Sarnecki, who has worked at a number of other health systems, such as John Hopkins Health System in Baltimore, said he is really impressed with how KRMC is handling the roll out and security of the new programs.
"They aren't cutting corners. The committee wanted to make sure it purchased the best system it could for the patients," he said.
Sarnecki and Bennett admitted that some doctors and staff members are struggling with the system, but help is being offered. The hospital has hired two large firms to provide training to staff and doctors before, during and after NextGen has been installed, Bennett said.
Bennett likened it to when she switched to Windows Vista on her home computer.
"I just couldn't get it. It just didn't click with me," she said. Bennett linked her difficulties to the fact that she didn't grow up with computers like some of the younger doctors and staff did. Some of the older doctors and staff are having the same problem with NextGen, she said.
"Everyone has a different learning curve," Sarnecki said. "It's going to take some time. It's faster to scribble something on a piece of paper and hand it off than it is to work your way through a computer program, but this is what we're required to do."
Both Bennett and Sarnecki have heard rumors of some staff members and doctors threatening to leave KRMC because of the new system.
"There are some people who don't like computers and don't want anything to do with them, but I'm not sure where they would go. Everyone has to have this type of system in place by 2015," Sarnecki said.
Leaving is always an option, Bennett said, but she agreed with Sarnecki.Where would a doctor go where they wouldn't be required to use a similar system?
Sarnecki hopes to have all of KRMC's doctors' offices up and running with the new system by the end of the year. KRMC expects to bring the new hospital record system, Soarain, on line in August.