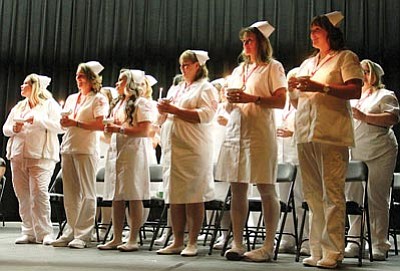 Originally Published: July 29, 2012 6:01 a.m.
A class of 18 nurses graduated from Mohave Community College Thursday, making them the first practical nurse graduates to complete the new one-year program.
"No words to describe this feeling," said April Epps, a Lake Havasu City resident who traveled to Kingman for one year to complete the program. "It's taken years for me to get here.
"Ever since I was a little kid I wanted to be a nurse. I love to take care of people."
Ten of the 18 students were from Kingman. The practical nursing pinning ceremony was held at the Lee Williams High School auditorium.
The program underwent a revival and upgrade starting in 2008 after the late Dr. John Lingenfelter saw a need for more licensed practical nurses in the Kingman community.
After speaking with MCC President Michael Kearns, the Lingenfelter family donated land for the college's foundation to build the Detroit Avenue Center, which houses the program.
The Arizona State Board of Nursing approved the program in May 2011 and Thursday's honorees began their classes nearly one year ago.
The new program offers two simulation laboratories to bring real-life experiences to students.
MCC'S original founding vision in 1971 included providing a nursing program to the Tri-City region. For nearly 10 years, the only nursing graduates were LPNs.
In 1980, students started entering the college's new registered nursing (RN) program in Kingman. After one year, students could opt to take their practical nursing test for licensing or finish a second year of coursework to earn their RN associate's degree.  
The new practical nurse program structure requires fewer general education courses, which allows completion in one year.
Practical nurses assist registered nurses, who assess, diagnose and intervene to improve a patient's health.