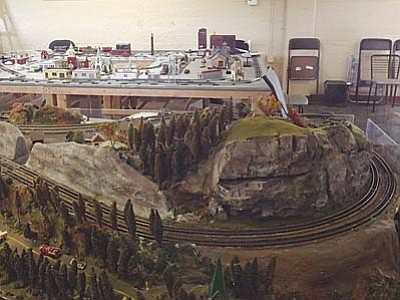 Originally Published: July 31, 2012 6:01 a.m.
The transformation of an empty 1,380-square-foot room into a railroad museum is in full swing, but the project's completion is still a couple of months away.
The Whistle Stop Railroad Club went full steam ahead into the $15,400 project, which is funded by the Kingman Tourism Development Commission, in early July. When it's completed, the museum will showcase various railroad relics, different types of model trains and several panels describing the history of railroads throughout the world, across the U.S. and here in Kingman.
"There's been plenty of obstacles," said Whistle Stop President Dave Bacon. "But we're getting through them just fine."
As it is now, two model train set-ups - an N-scale and an O-scale - are nearly finished. Space within the museum, located in the Amtrak Train Depot at 400 E. Andy Devine, is limited, but the club is committed to using every last inch of it wisely.
The museum's centerpiece, a large HO-gauge set-up that takes up nearly half the room, still needs a good amount of work. The club even plans to include a model of Kingman's train depot within the set-up.
The factory in China that produces track for HO-gauge model trains had a bad fire recently, Bacon said. The company is shifting its operations to other factories, but it's going to be some time before it gets back to selling track.
To clear the obstacle, the club is turning to member Shawn Lavery, who just so happens to have several boxes of unused track for HO-gauge trains. He purchased the track months ago but got wrapped up in different projects and was never able to use it. The club agreed Monday to purchase the track from Lavery.
Lavery is relatively new to the club. A drag racer for 47 years, Lavery was forced to retire after suffering two minor heat strokes while racing.
"My doctor told me, 'If you don't get out of the car, you're going to die,'" he said. He had planned to continue racing into his 80s, but the medical issues compelled him to retire early - at the tender age of 71.
"I needed something," Lavery said. "I was going through withdrawals from racing, and model trains snapped into my head."
Other than an American Flyer set he received as a gift when he was 10, Lavery had no experience with model trains.
Still, he jumped in with both feet. He bought $5,000 worth of model trains and accessories before he learned of the Whistle Stop Railroad Club, which he promptly joined.
Lavery sold his race cars and spent the money on converting part of his workshop - once used for working on dragsters - into a place for working on and building model train set-ups.
Monday, he pointed to museum's O-scale set-up, which is still in the works, and said: "I built this whole thing at home."
He and two club mates, Jim Cox and Mark Wolski, dedicated themselves to the O-scale project. At the moment, there's an empty space in the middle of the display. Lavery said they're going to build a mountain there for trains to go in, out and around.
Though the mountain needs to be built, the track needs to be cleaned and buffed and the display needs to be fine-tuned with grass, gravel and other aesthetic pieces, Lavery hopes to have it up and running by Saturday.
"We've been working our butts off," he said. "I don't have time to think about racing anymore."