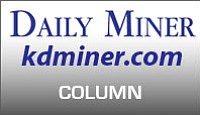 Originally Published: June 3, 2012 6:01 a.m.
If you're looking for something unusual in this edition of the Miner, flip forward once to Page 8 and take a look at the anniversaries.
It's a bit unusual that there are three, but only because so many people don't think about putting the information in the paper. I reckon three would be considered a low number if half the couples (or their offspring) having a significant anniversary would remember to email us their "now and then" photos and some information, such as where and when the wedding took place, how many children the couple have, stuff like that.
Besides, it's free.
But back to the topic at hand. The three anniversaries in today's Miner are out of the ordinary because none of them are at what I consider the starting spot for being newsy, and that's 50 years. Instead, we have Elgin and Doris Smith celebrating their 60th anniversary on May 31, and Bette and Fred Beeman celebrating anniversary No. 65 on June 9. They tied the knot in Winner, S.D., in 1947.
Winner's a pretty little town, but come Dec. 1 Kingman is a lot nicer. Trust me on that one.
The anniversary champions, though, are Eva and D.B. Koehler, who exchanged vows on May 30, 1942, in, appropriately enough, Union, Mo. And quite a 70-year union it has been, with seven children, 38 grandchildren, seven great-grandchildren and three of the great-great variety.
College Park Baptist Church wants the couple to have a card shower, so send a note of congratulations to DB & Eva Koehler, 3101 Sycamore, Kingman AZ 86409.
•••
John Edwards avoided serious jail time last week when a jury found him not guilty on one charge and not reaching a verdict on other charges. All were related to campaign fraud.
I read a few opinion pieces about the charges and decided early on this wasn't something that should result in Edwards going to prison for 30 years.
And I think anyone who is marginally informed about Edwards and his conduct while his wife was dying of cancer would agree he is a sleazy fellow.
And this is where I get stumped. During all this maneuvering to get cash and support to his mistress and their child during a campaign for president, did it ever occur to Edwards' assistants in on the scheme that presidents don't act like this? And if the answer is no, the circle of sleaze gets a bit wider.
None of the players in this mess should ever be in a position of public trust again.