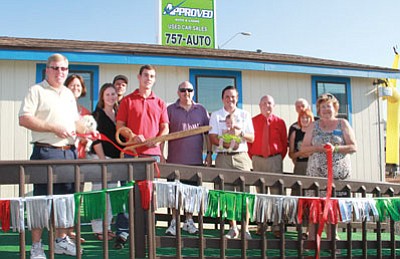 Originally Published: June 5, 2012 6 a.m.
KINGMAN - Vehicles range from $1,995 to $19,095 at Kingman's newest used car lot, Approved Auto & Loans, 4240 Stockton Hill Road.
Gary Messer owns the dealership and his son Tyler Jacobson is the sales manager.
Jacobson said one of the main goals of Approved Auto is to provide affordable vehicles and help people with poor credit obtain transportation. It's a "buy here, pay here" lot with in-house and outside financing available, he said.
In addition to its inventory of used vehicles, Approved Auto offers a line of Big Tex Trailers.
The dealership held a ribbon cutting Friday and a grand opening party Saturday.