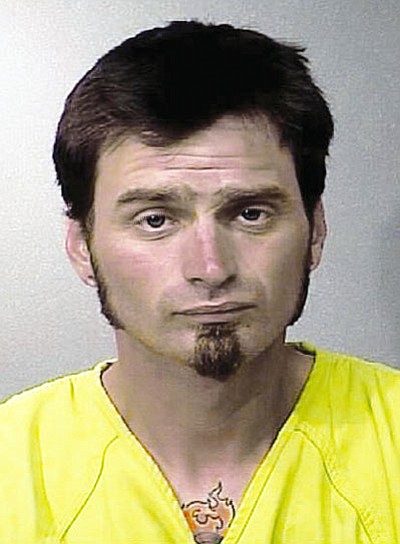 Originally Published: June 5, 2012 6:01 a.m.
KINGMAN - One of three people stabbed during a violent home invasion Saturday was listed in critical but stable condition Monday.
Philip S. Matwyuk, 27, of Kingman was arrested following a manhunt Saturday morning that included multiple agencies and the Department of Public Safety Air Ranger. Kingman Police Capt. Rusty Cooper said Matwyuk surrendered peacefully at a truck stop in the 900 block of West Beale Street around 10 a.m. after arranging a meeting over the phone with a detective working the incident.
Cooper said Matwyuk entered the home of his ex-girlfriend in the 700 block of Gold Street around 7 a.m. Saturday morning. Cooper said Matwyuk had seen his estranged girlfriend with a new man the night before at a local tavern.
Matwyuk apparently grabbed a knife from the kitchen before entering a bedroom and confronting the ex-girlfriend and the new boyfriend, who were still sleeping.
The ex-girlfriend, 29, and the boyfriend, 26, were stabbed multiple times. At some point the ex-girlfriend's 22-year-old sister tried to stop Matwyuk and was also stabbed numerous times.
Cooper said a 15-year-old in the home phoned police. She was reportedly threatened by Matwyuk with the knife but was not physically harmed.
Cooper said the 26-year-old man received the most serious injuries of the three victims. He was in critical but stable condition Monday at Kingman Regional Medical Center.
Matwyuk fled the home in a car, which was later found abandoned on Fort Beale Road. Matwyuk called his father, who then contacted authorities and put them in touch with his son. Cooper said Matwyuk and the officer spoke at some length and were disconnected. Matwyuk then called 911 to arrange his surrender. He was booked into the Mohave County Jail on multiple charges of aggravated assault by domestic violence.
Cooper said all three victims are expected to survive.