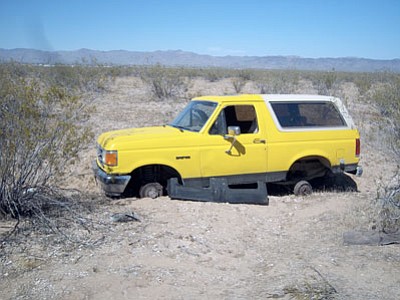 Originally Published: June 7, 2012 9:16 p.m.
I don't know if you own an off-road vehicle or not, but for those who do, I bet any excuse to head out into the outback or whatever you want to call your adventure on your off-road vehicle is a good one.
My sweetheart and I are no different from any other off-road enthusiasts, and we seize the opportunity anytime we can to pull one of our off-road vehicles out of the garage and head off on unknown adventures at the drop of a hat.
We were heading home Wednesday evening from a short trek through the desert and from a Golden Valley gas station where we had just fueled up and purchased that winning (hopefully) Arizona Lottery Powerball ticket. When I handed the cash to the clerk at the store, my thoughts immediately drifted to the secluded tropical island in the South Pacific we will purchase as soon as our winning fortune lands in our checking account from the lottery officials. Yes, I am probably counting our chickens before they hatch, but that's OK; it never hurts to dream.
As we drove home in our Yamaha Rhino Sport side-by-side, my honey suggested we take a different route, so we decided to headed west on a dirt road that isn't travelled too often by local residents. As we tootled along the dusty and isolated road and about three and a half miles from home, I spotted a bright yellow vehicle in the wash about 150 yards north of our location.
When I first spotted the vehicle, I immediately thought someone was dumping trash in the desert and this would be a chance in a lifetime for me to catch the culprits - or at least take photos of them violating the law. You all know how much of an anti-illegal-dumping advocate I am, so I turned around and headed toward the vehicle in hopes of taking a picture or two of the wildcat dumpers in our beautiful area. Well, when I arrived, I noticed the tires and rims were missing from the vehicle. I stopped and walked over to the vehicle to make sure there wasn't a dead body in it. Yep, I was lucky because there wasn't a body in or near the vehicle, so I decided to take photos of the vehicle. When I got home, I called the Mohave County Sheriff's Office to report what I found. The dispatcher asked that I meet a deputy in the area so I could show them where the vehicle was located.
Once the deputy arrived and I escorted him to the vehicle's location, I learned the vehicle had been stolen from So-Hi only a few days earlier. Even though the tires/rims, radio and battery were missing, at least no one had completely stripped the vehicle or shot it full of bullet holes. By looks of the various tire tracts adjacent to the stolen vehicle, it appeared the vehicle had not been left there very long and others had been by to check the vehicle out, possibly to start stripping it of parts. I honestly don't know if the visitors to the area were the individuals who stole the vehicle, but it could have been the culprits seeing if anyone had spotted the vehicle. And maybe they were planning on returning to the vehicle to take more parts off it.
The next morning I was instant messaging back and forth on the computer with a friend and when I told him of the stolen vehicle we had discovered, he said something to the effect, "I'd love to catch these creeps." I was thinking the same thing. it upsets me that there are criminals who violate our rights and lives by stealing things.
As I sat in front of my computer, I toyed with ideas about what could be done to catch the perpetrators of a crime, not necessarily the ones who stole the vehicle we had discovered.
Then it hit me like a load of bricks; two of my friends are avid hunters and they own "game" cameras. These are nifty little devices that hunters place out in the boonies to photograph wildlife as they pass in front of the camera. They are used to tell them if game has been coming by a particular area. They are motion operated, some of which have infrared capabilities, and when hidden in a tree or under a bush, no one knows they are there. As a matter of fact, some of the game cameras placed in areas in southern Arizona frequently travelled by illegal immigrants and drug smugglers, have "snapped" photos of the illegal activities. I think most people have seen many of these photos that ended up on Facebook and other social media sites.
Because I thought it was a good idea, I decided to give Mohave County Sheriff Tom Sheahan a call to discuss the possibility of game cameras being utilized as a crime fighting tools in the county. The sheriff wasn't in the office so I left a message, and not too long afterward, I received a call from MCSO Chief Deputy Jim McCabe and I explained to him my idea of utilizing game cameras as part of a crime fighting means. I gave him an example of the stolen vehicle we had found and the likelihood the crooks would return to take more items and/or parts off of the vehicle. I explained to him that if there were game cameras set up in the area where the stolen vehicle was located, then they would be able to snap a picture or two of the individuals who stole the vehicle when they returned to steal more parts off it. I went on to say that if they had photographs of the perpetrators and their license plates on their vehicles, MCSO would possibly have enough probable cause to obtain a search warrant of the individual's home in hopes of finding stolen property and arresting them for the crime.
Deputy McCabe thought it was a good idea, but informed me the MCSO didn't currently have any of these cameras in the sheriff's inventory. Because of budgetary constraints, it didn't look like they would be able to purchase any in the immediate future.
Remember Deputy County Manager of Management Services and Financial Services Director John Timko and other Mohave County officials have publically stated that more than $1 million needs to be cut from the sheriff's budget. I guess they think the Sheriff's Office can operate and do more with less. It is my opinion that MCSO doesn't need a budget cut, but actually needs an infusion of added funds for them to do their job.
I know everyone is tired of the less-than-honest people committing crimes in our county and would like to do something about it. You read about crimes in newspapers and hear about them on the radio on a daily basis. It just seems as if there is a crime every day. No, I am not advocating regular citizens putting on camouflage face paint, strapping on a weapon and heading out fighting crime as part of a vigilante force. It is best to leave that job to the professionals, the local law enforcement.
But there is something we can do to assist the MSCO to make their job a little easier and help them take a bite out of crime. I decided to put forth a challenge to procure game cameras and donating them to MSCO.
Game cameras with infrared capabilities can be purchased through local retailers, through internet stores and even on EBay. A quick check showed that these cameras cost anywhere from $40 on upward to $600 depending upon what type and capability you want to purchase.
I've completed some research of the various infrared game cameras available for purchase and my head started spinning because of the vast amounts of different makes and models available. There are even models that can be remotely viewed via a computer, but be prepared to shell out some major bucks for that game camera in addition to the fees for the remote viewing capability via the internet.
I'm putting a challenge out to all of the readers of my blog and the Kingman Daily Miner for them to dig deep into their pockets and purchase an infrared game camera to be donated to MCSO. I'm hoping at least 75 people will feel the need and desire to help equip the MCSO with these state-of-the-art infrared game cameras that will help make their job a little easier and hopefully help them catch the bad guys and gals. No, I'm not saying you have to buy one of the ultra-expensive super duper ones. As previously stated, there are reasonably-priced units available that the cost won't break the bank.
There are numerous brands available for purchase, some of which are available at local retail outlets in Kingman, Bullhead City and Lake Havasu City. They include: Wildgame Innovations, Moultrie, Bushnell, Tasco and Wildlife Stealth Xtreme, just to name a few.
I'm personally thinking about purchasing the Moultrie Game Spy LX50IR Infrared Game (five megapixel) Camera that offers night range up to 40 feet. It has three operational modes; IR triggered game camera, time-lapse plot camera, plot camera by day and infrared camera at night. Moon phase, time, date and camera ID are stamped on every photo. It offers multi-shot pictures and an SD memory card slot for up to 32 GB (in other words, it holds a lot of pictures). It operates on six C-cell batteries and has a 90-day average battery life. The cost is $84.99 on EBay with free shipping or you can pay $99 plus tax on one of the local online stores and you'll also end up paying for shipping and handling.
If individuals want to accept my challenge and purchase one of the infrared game cameras to be donated to MSCO, all they have to do is contact me at butch'sbrew@frontier.com or give me a call at (928) 530-8988 after purchasing a unit and I'll make arrangements to pick it up. Once I get all of the cameras collected, I'll deliver them to Sheriff Sheahan so they can be put into "crime-fighting" mode by them. Additionally, I'll take a picture of the donation occurring and disseminate it to the local media.
Remember, when you are out and about, always be visually aware of your surroundings and what is occurring around you; you could very well help solve a crime. But the main thing you should know is never put yourself or someone else in harm's way. Only observe and report what you see; never attempt to apprehend the criminals. Discretion is the better part of valor.
The moral of this story is: Crooks beware. The next time you are out in the desert involved in illegal activities, someone may be observing what you're doing and you might think to yourself, "Smile, I may be on candid camera!"